(John Vibes)
Youtube announced this week that it will be demonetizing all accounts which do not meet a certain threshold in followers.
Related Mainstream Media Admits: YouTube has a pedophile problem on its hands

Source - TheFreeThoughtProject

by John Vibes, January 19th, 2018
YouTube alienated a large portion of its audience this week by demonetizing all of their smaller content creators. In an email sent out to millions of independent artists, musicians, and journalists, YouTube informed them that they were no longer eligible for advertising revenue on the site because their channels were simply not big enough.
The site now requires a minimum of 1000 subscribers and 4000 hours of viewed content, automatically disqualifying a large chunk of their creators from monetization.
Below is an email that the company sent out to up and coming Youtubers: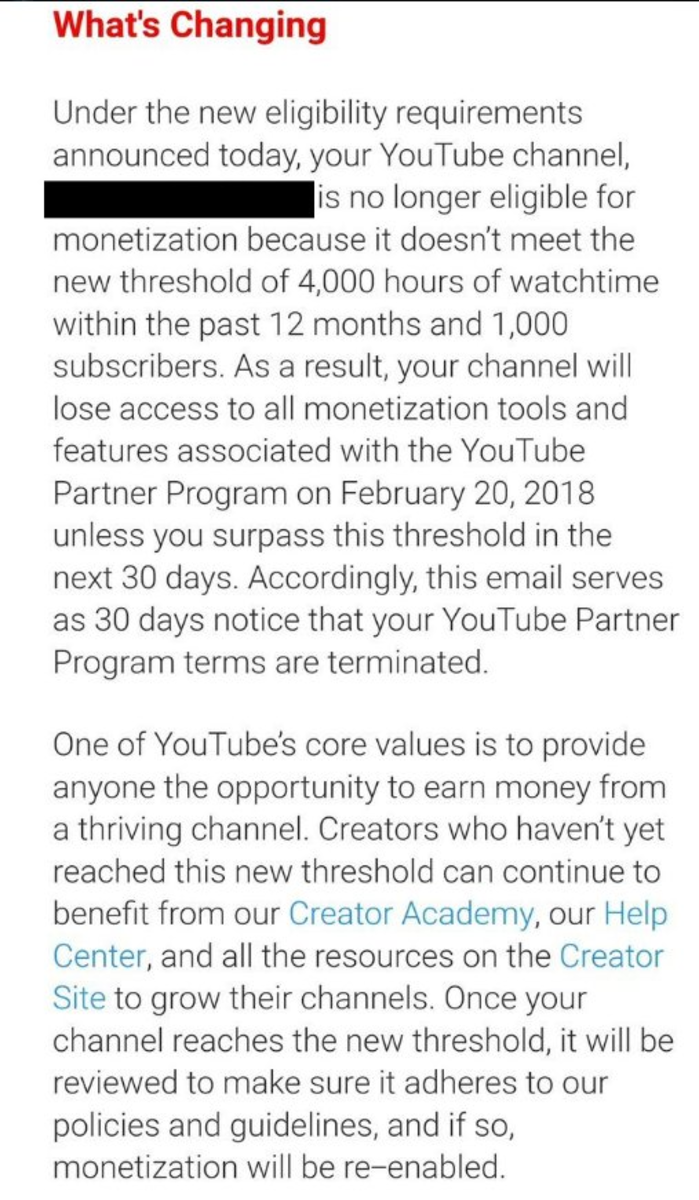 A statement from YouTube read:
"These higher standards will also help us prevent potentially inappropriate videos from monetizing which can hurt revenue for everyone. Though these changes will affect a significant number of channels, 99% of those affected were making less than $100 per year in the last year, with 90% earning less than $2.50 in the last month. Any of the channels who no longer meet this threshold will be paid what they've already earned based on our AdSense policies. After thoughtful consideration, we believe these are necessary compromises to protect our community."
The company also said that the change in policy was intended to "prevent bad actors from harming the inspiring and original creators around the world who make their living on YouTube."
However, having a small channel does not make someone a "bad actor," in fact, some of the worst and most inappropriate content has come from the whales of YouTube, not the little fish. It is also important to mention that with this new policy, if a smaller channel has a video go viral overnight, and suddenly reaches the threshold, they may not be able to monetize this potentially once in a lifetime opportunity. This certainly ends up helping YouTube and hurting independent media.
But this should be expected.
As
The Free Thought Project
reported last year, a group of whistleblowers from YouTube claimed that the company has allowed at least 100,000 predatory accounts to leave inappropriate comments on videos with no repercussions as "
YouTube's system for reporting sexualized comments left on children's videos has not been functioning correctly for more than a year.
"
The moderators, who are referred to as YouTube's "
Trusted Flaggers
," are charged with flagging inappropriate content and reporting the users who are violating the platform's policies. However, they claim that in many cases, the accounts they report face no consequences. These accounts have millions of subscribers and these videos have hundreds of millions of views, and many of them would be unaffected by this change.
Many smaller YouTubers are placing the blame on the likes of Logan Paul or PewDiePie who have made headlines with insensitive and racist material. Although, whales like PewDiePie have no problems with the new rules, as it wipes out some of their competition.
Can I just say that today

@YouTube

decided to remove monetization options for small creators and then expressed that they'd be willing to work with Logan Paul again. I don't know if it gets more blatant than that. :)

— Kat Blaque (@kat_blaque) January 17, 2018
"Dear YouTube creator, because Logan Paul pissed off our advertisers, we're demonetizing your channel until you reach new standards that, according to our metrics, you've already reached.

Have fun with that!"

¯\_(ツ)_/¯

— Dr. NerdLove (@DrNerdLove) January 17, 2018
The odd thing about YouTube pulling ad revenue from all channels with less than 4k subs... But it is the channels with millions of subs that are making poor decisions.

#irony pic.twitter.com/v0HuHHRy2F

— Paige McKenzie (@hauntedsunshine) January 17, 2018
As annoying as it is, that THIS is YouTube's response to the Logan Paul thing. Or at least it seems like it. I'm with you, it shouldn't be an issue to not to monetize before you hit these numbers.

— pewdiepie 💰 (@pewdiepie) January 17, 2018
Youtube is now punishing new/smaller creators in response to the logan paul incident. I had a feeling this would happen and others would feel the backlash of his mistake, it's a shame.

pic.twitter.com/xh0YidXxPG

— RyansAverageLife (@RyanAbe) January 17, 2018
This is a devastating situation for may content creators, but luckily there is a solution on the blockchain. Many of the YouTubers who have become disenfranchised with the site are moving their content to
DTube,
which is a decentralized video hosting platform where users are paid in cryptocurrency for "likes" and comments.
As the big dogs shoot themselves in the foot, a revolution in social media is happening on platforms like DTube and Steemit. The dinosaur social media platforms are losing their relevance as we expose their censorship and subservience to special interests like the advertisers who have access to all your personal data. If you truly want to be a part of the next step, we invite you to join
Steemit
today. You have nothing to lose and everything to gain.
About the Author


John Vibes is an author and researcher who organizes a number of large events including the Free Your Mind Conference. He also has a publishing company where he offers a censorship free platform for both fiction and non-fiction writers. You can contact him and stay connected to his work at his Facebook page. John is currently battling cancer , and will be working to help others through his experience, if you wish to contribute to his treatments consider subscribing to his podcast to support .
_________________________
Stillness in the Storm Editor's note: Did you find a spelling error or grammar mistake? Do you think this article needs a correction or update? Or do you just have some feedback? Send us an email at sitsshow@gmail.com with the error, headline and url.
Thank you for reading.
________________________________________________________________
Sign-up for RSS Updates:
Subscribe in a reader
Question

-- What is the goal of this website? Why do we share different sources of information that sometimes conflicts or might even be considered disinformation?
Answer

-- The primary goal of Stillness in the Storm is to help all people become better truth-seekers in a real-time boots-on-the-ground fashion. This is for the purpose of learning to think critically, discovering the truth from within—not just believing things blindly because it came from an "authority" or credible source.
Instead of telling you what the truth is, we share information from many sources so that you can discern it for yourself. We focus on teaching you the tools to become your own authority on the truth, gaining self-mastery, sovereignty, and freedom in the process. We want each of you to become your own leaders and masters of personal discernment, and as such, all information should be vetted, analyzed and discerned at a personal level. We also encourage you to discuss your thoughts in the comments section of this site to engage in a group discernment process.
"It is the mark of an educated mind to be able to entertain a thought without accepting it." – Aristotle
The opinions expressed in this article do not necessarily reflect the views of Stillness in the Storm, the authors who contribute to it, or those who follow it.
View and Share our Images.
Curious about Stillness in the Storm?
See our About this blog - Contact Us page.
If it was not for the gallant support of readers, we could not devote so much energy into
continuing this blog. We greatly appreciate any support you provide!
We hope you benefit from this not-for-profit site
It takes hours of work every day to maintain, write, edit, research, illustrate and publish this blog.
We have been greatly
empowered
by our search for the truth, and the work of other researchers. We hope our efforts
to give
back, with this website, helps others in gaining
knowledge, liberation and empowerment.
"There are only two mistakes one can make along the road to truth;
not going all the way, and not starting." — Buddha
If you find our work of value, consider making a Contribution.
This website is supported by readers like you.
[Click on Image below to Contribute]