(
RT
) Julian Assange has once again sent Twitter into a frenzy of speculation with another cryptic tweet – this time posting an image of a famous chess strategy, prompting suggestions the whistleblower is preparing 'checkmate'.
Related BREAKING: Julian Assange Granted Ecuadorian Citizenship
Source - DeusNexus
by RT, January 13th, 2018
The chessboard tweeted by Assange, unaccompanied by any text, shows a move from the
Capablanca vs Marshall
chess game of 1918 – considered one of the greatest defensive games of all time.
January 13, 2018
The story goes that then-reigning US champion Frank Marshall spent years
planning
a surprise attack against Cuban rival José Raúl Capablanca, even avoiding playing the move in earlier matches so that he could spring it suddenly on his opponent at the right moment.
Nevertheless, Capablanca (represented on the board by white pieces) skilfully defeated Marshall's attack and went on to win the game.
— Bruce King (@CrowdvBank) January 13, 2018
Speculation mounted over which color represented Assange and what exactly he was trying to convey with the mysterious tweet.
One Twitter user suggested that Assange's choice to post this particular position may indicate that he has already left the Ecuadorian Embassy in London. Another interpretation, posted by the same user, mused that the 'game' could still be in play, but with Assange in a strong position.
Another interpretation: the game might still be in progress but JA is in a strong position against opposing US interests.
— Bruce King (@CrowdvBank) January 13, 2018
January 13, 2018
Other avid chess fans
pointed
out that although checkmate is not inevitable, it could mean the game is coming to a close.
According to Twitter users the play tweeted by Assange suggests that three moves are needed to checkmate, generating other
theories
that the tweet relates to the impending publication of the US Department of Justice report into the FBI handling of the Hillary Clinton email investigation.
Or perhaps it's just anticipating Trump's upcoming 'Fake News' awards, others quipped. In any case the burning question remains: whose move is it?
Assange also changed the icon beside his Twitter profile name from a blue diamond to an egg timer – an image associated with Wikileaks and used on its
website
.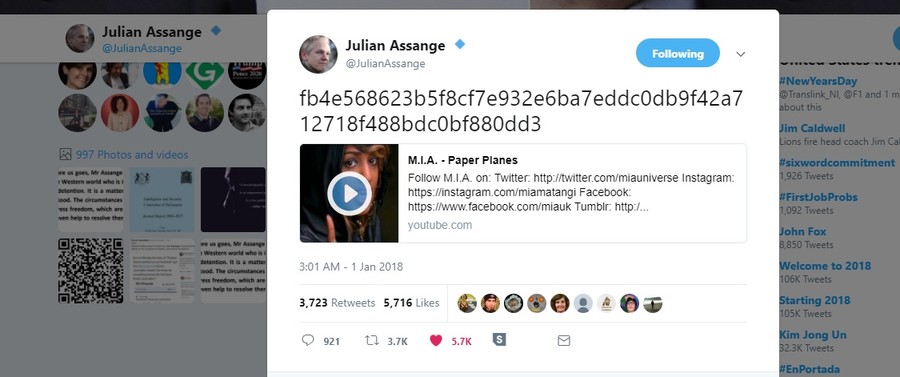 The Wikileaks founder, known for his profuse tweeting, has in the past two weeks only sent three tweets – all cryptic and igniting much conjecture online. Last week the Ecuadorian Embassy in London
confirmed
to RT.com that the WikiLeaks founder was still in the building.
The Ecuadorian Foreign Ministry announced this week that it had granted citizenship to Assange. The UK Foreign Office, however, rejected a request from Quito to grant the
whistleblower diplomatic status.
In a
motion filed
with the U.S. District Court for the District of Columbia on Dec. 29, 2017, in the case Roy Cockrum vs. Donald J. Trump for President, attorneys for President Trump argued that Julian Assange had a right under the First Amendment to publish the DNC and John Podesta emails, even if the emails were stolen.
_________________________
Stillness in the Storm Editor's note: Did you find a spelling error or grammar mistake? Do you think this article needs a correction or update? Or do you just have some feedback? Send us an email at sitsshow@gmail.com with the error, headline and url.
Thank you for reading.
________________________________________________________________
Sign-up for RSS Updates:
Subscribe in a reader
Question

-- What is the goal of this website? Why do we share different sources of information that sometimes conflicts or might even be considered disinformation?
Answer

-- The primary goal of Stillness in the Storm is to help all people become better truth-seekers in a real-time boots-on-the-ground fashion. This is for the purpose of learning to think critically, discovering the truth from within—not just believing things blindly because it came from an "authority" or credible source.
Instead of telling you what the truth is, we share information from many sources so that you can discern it for yourself. We focus on teaching you the tools to become your own authority on the truth, gaining self-mastery, sovereignty, and freedom in the process. We want each of you to become your own leaders and masters of personal discernment, and as such, all information should be vetted, analyzed and discerned at a personal level. We also encourage you to discuss your thoughts in the comments section of this site to engage in a group discernment process.
"It is the mark of an educated mind to be able to entertain a thought without accepting it." – Aristotle
The opinions expressed in this article do not necessarily reflect the views of Stillness in the Storm, the authors who contribute to it, or those who follow it.
View and Share our Images.
Curious about Stillness in the Storm?
See our About this blog - Contact Us page.
If it was not for the gallant support of readers, we could not devote so much energy into
continuing this blog. We greatly appreciate any support you provide!
We hope you benefit from this not-for-profit site
It takes hours of work every day to maintain, write, edit, research, illustrate and publish this blog.
We have been greatly
empowered
by our search for the truth, and the work of other researchers. We hope our efforts
to give
back, with this website, helps others in gaining
knowledge, liberation and empowerment.
"There are only two mistakes one can make along the road to truth;
not going all the way, and not starting." — Buddha
If you find our work of value, consider making a Contribution.
This website is supported by readers like you.
[Click on Image below to Contribute]