(Andy Campbell)
At least 35 Disney employees in and around Florida have been arrested and accused of sex crimes involving children since 2006,
CNN reports as part of a six-month investigation
. So far, 32 of those cases have resulted in convictions.
Related: Walt Disney: The Gnostic Masonic Rosicrucian
Source - HuffPost
by Andy Campbell, December 6th, 2017
"Wherever you find children, you'll find sexual predators that want to be there," said Polk County Sheriff Grady Judd. The report reveals an urgent problem plaguing our theme parks.
One of the men whose case is still pending is 49-year-old Robert Kingsolver of Orlando. Kingsolver worked as a ride repair manager at Magic Kingdom until he was accused of attempting to meet a 14-year-old girl for sex in Lake County. His arrest was
one of 22 in a February sting operation
conducted by the Lake County Sheriff's Cyber Crime Unit, according to WESH.
"My life is ruined," Kingsolver told CNN at his home, where he's on house arrest. "My family's life is ruined. My kids' life is ruined. I've devastated my parents because of bad judgment."
Kingsolver, who pleaded not guilty, is just one of dozens of Disney and Universal Studios employees charged in stings recorded in the investigation. Other employees arrested over possession of child pornography or arranging to meet minors for sex include security guards, a costumer, a tour guide, a gift shop employee and maintenance workers.
During that same sting in February,
32-year-old Patrick Holgerson
— then a character actor with Disney — was accused of sending nude photos to someone he thought was a 13-year-old boy. When he arrived to meet the boy, he was greeted by police, CNN reports. Holgerson also faces charges for failing to disclose his HIV status to a sexual partner.
Tyler Edge, another Disney employee, allegedly brought a knife and condoms to the sting operation. Joel Torres, 32, who listed his employer as Walt Disney World, allegedly brought condoms to a home where he thought he was meeting a 14-year-old.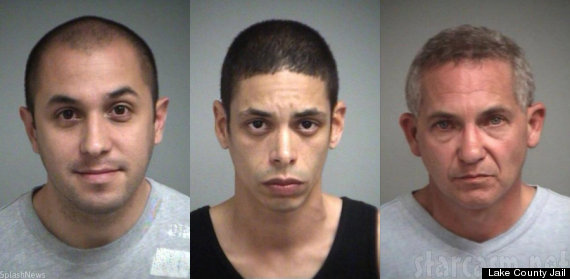 Patrick Holgerson, Joel Torres and Robert Kingsolver
Earlier this month, a sting in Central Florida led to 16 arrests, including a Universal Studios employee and two Disney workers, 26-year-old Zachary Spencer and Allen Treaster, 40.
READ THE FULL REPORT AT CNN
Disney maintains that it has "extensive measures in place" to thwart child predators before they're employed, including background checks and computer monitoring. The Disney theme park in Florida has about 70,000 employees.
"The numbers reported by CNN represent one one-hundredth of 1 percent of the 300,000 people we have employed during this time period," spokeswoman Jacquee Wahler said. "We continue to work closely with law enforcement and organizations, like the National Center for Missing and Exploited Children, as we constantly strengthen our efforts."
Still, the charges are widespread and egregious.
CNN reports
:

Previous arrests include:
Cedric Cuthbert, the night shift custodial manager at Disney's Port Orleans resort, who was downloading child porn last year on his work computer while writing a sermon for his church, where he was the pastor, according to police. Cuthbert pleaded no contest to the charges and was sentenced to six years in prison.
Paul Fazio, who worked in an Animal Kingdom Lodge gift shop. Fazio was convicted of downloading videos showing "multiple scenes of nude prepubescent children engaging in sexual activity with adults and other children," the police report said.
William Marrero-Maldonado, who worked for Disney security. He was arrested in April after an Osceola County Sheriff's Office investigation claimed that he was downloading child porn videos. He has pleaded not guilty.
Since CNN's investigation, U.S. Rep. Dennis Ross (R-Florida) has
proposed legislation that would add an exemption to the Polygraph Act of 1988
, which makes it illegal for many private companies to polygraph employees. Ross wants companies that provide for children to further screen new employees.
About the Author
Andy Campbell is a Senior Reporter at HuffPost. Previously, he worked at the New York Post and Brooklyn Paper
.
_________________________
Stillness in the Storm Editor's note: Did you find a spelling error or grammar mistake? Do you think this article needs a correction or update? Or do you just have some feedback? Send us an email at sitsshow@gmail.com with the error, headline and url.
Thank you for reading.
________________________________________________________________
Sign-up for RSS Updates:
Subscribe in a reader
Question

-- What is the goal of this website? Why do we share different sources of information that sometimes conflicts or might even be considered disinformation?
Answer

-- The primary goal of Stillness in the Storm is to help all people become better truth-seekers in a real-time boots-on-the-ground fashion. This is for the purpose of learning to think critically, discovering the truth from within—not just believing things blindly because it came from an "authority" or credible source.
Instead of telling you what the truth is, we share information from many sources so that you can discern it for yourself. We focus on teaching you the tools to become your own authority on the truth, gaining self-mastery, sovereignty, and freedom in the process. We want each of you to become your own leaders and masters of personal discernment, and as such, all information should be vetted, analyzed and discerned at a personal level. We also encourage you to discuss your thoughts in the comments section of this site to engage in a group discernment process.
"It is the mark of an educated mind to be able to entertain a thought without accepting it." – Aristotle
The opinions expressed in this article do not necessarily reflect the views of Stillness in the Storm, the authors who contribute to it, or those who follow it.
View and Share our Images.
Curious about Stillness in the Storm?
See our About this blog - Contact Us page.
If it was not for the gallant support of readers, we could not devote so much energy into
continuing this blog. We greatly appreciate any support you provide!
We hope you benefit from this not-for-profit site
It takes hours of work every day to maintain, write, edit, research, illustrate and publish this blog.
We have been greatly
empowered
by our search for the truth, and the work of other researchers. We hope our efforts
to give
back, with this website, helps others in gaining
knowledge, liberation and empowerment.
"There are only two mistakes one can make along the road to truth;
not going all the way, and not starting." — Buddha
If you find our work of value, consider making a Contribution.
This website is supported by readers like you.
[Click on Image below to Contribute]