(John Vibes)
Because cryptocurrencies are a threat to the banking elite, they are now threatening to close accounts if customers link them to Coinbase.

Related: Bank Admits Fiat Currencies Are Failing and Cryptocurrencies May Replace Them
Source - TheFreeThoughtProject
by John Vibes, December 21, 2017
Cryptocurrency user Jordan Spencer recently received a letter from his bank warning him that his account would be closed if he continued to buy and sell cryptocurrency through the popular website and app Coinbase. The bank, Lakestone Bank and Trust also ominously threatened to keep an eye on his account to make sure that he obeyed.
Spencer
posted the letter
in a Facebook group for Ethereum traders to warn others about possible penalties or sanctions from banks.
The letter stated that:
"We are happy to have you as a Lakestone Bank and Trust customer and would like to fulfill your banking needs, but it has come to my attention that you are making purchases and receiving funds from Coinbase.com – A type of business transaction that is against Lakestone's policies and will need to be discontinued immediately. We will continue to monitor your account and if we see that these types of transactions continue we will be forced to take other action, up to and including closing the account."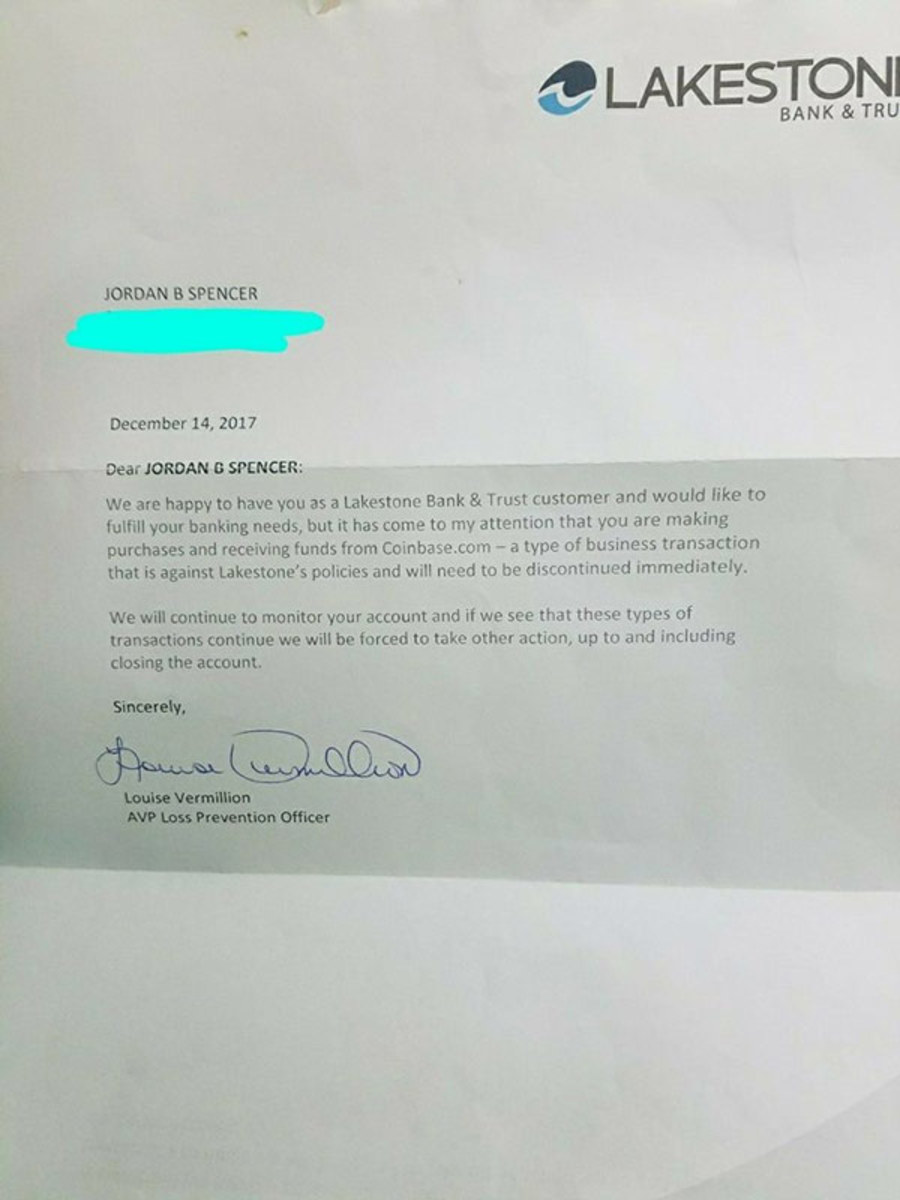 The post quickly went viral and created an uproar among cryptocurrency enthusiasts, who quickly spammed the bank's Facebook page with negative reviews and comments.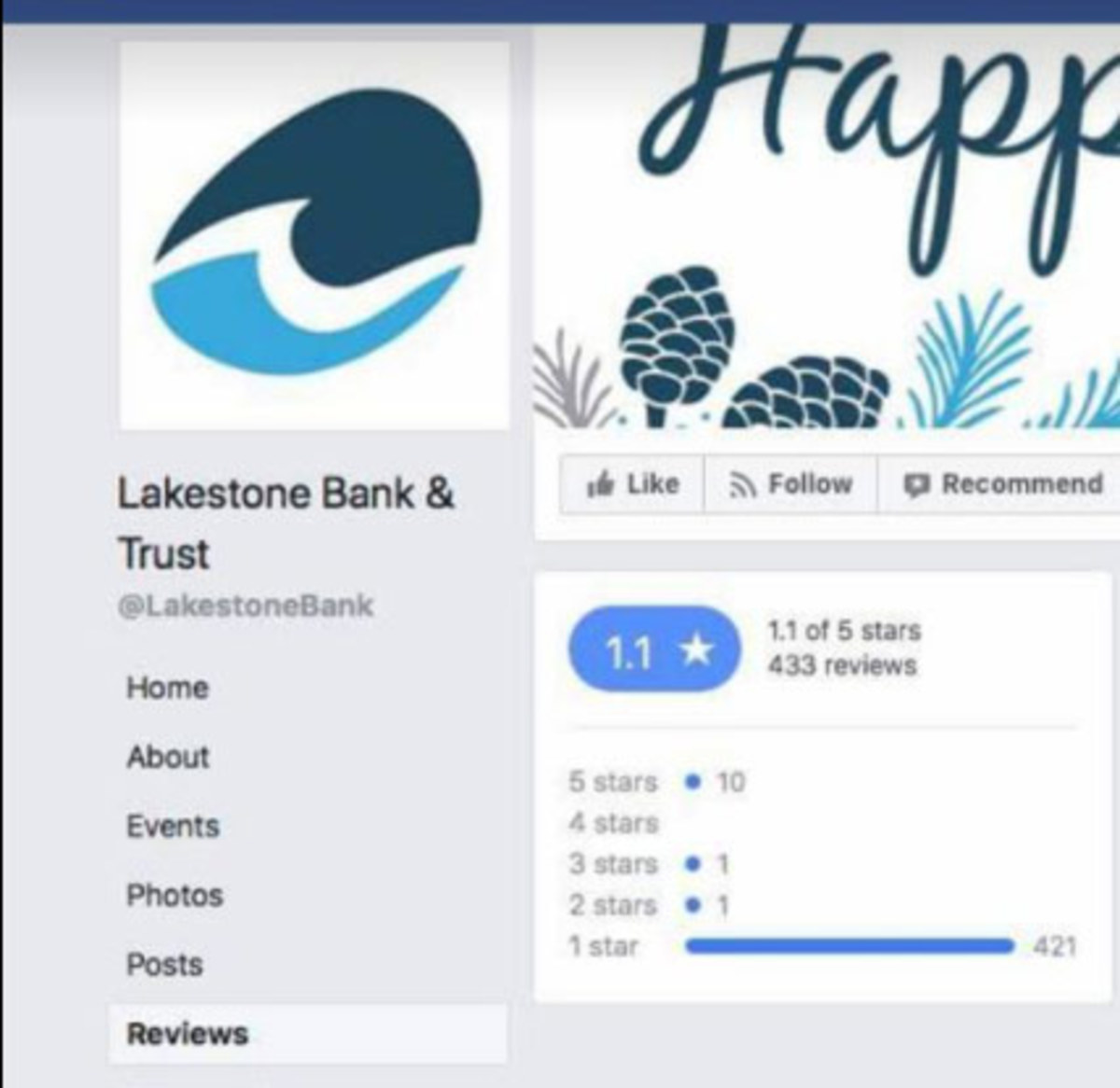 Cryptocurrency is obviously a threat to the traditional financial system, with a market cap of over $600 billion and rising every day, which far exceeds that of most major banks.
It was reported this week that daily cryptocurrency markets are now doing the
same volume
as the New York Stock Exchange.
Last week, the SEC
issued a statement
warning investors about cryptocurrencies not being regulated by governments. The statement is interesting considering that the SEC has allowed, if not assisted, in the many financial scams that have left so many people destitute.
"Speaking broadly, cryptocurrencies purport to be items of inherent value (similar, for instance, to cash or gold) that are designed to enable purchases, sales, and other financial transactions. They are intended to provide many of the same functions as long-established currencies such as the U.S. dollar, euro or Japanese yen but do not have the backing of a government or other body. Other often-touted features of cryptocurrencies include personal anonymity and the absence of government regulation or oversight. Critics of cryptocurrencies note that these features may facilitate illicit trading and financial transactions and that some of the purported beneficial features may not prove to be available in practice," the statement said.
Many cryptocurrency traders are fearing that more restrictions and regulations from governments are likely on their way.
If these sort of crackdowns from banks aren't resisted by customers, we can expect them to increase. The centralization of power and control of currency is what gives the banking elite their power—cryptocurrency is a threat to that power as its very nature is based on decentralization.
As we reported
earlier this week, the idea of cryptocurrency has actually been popular among crypto-anarchists and privacy experts for decades, and was predicted in Timothy May's 1994 manifesto "The Cyphernomicon." In
the book
, May prophesized about "
sophisticated financial alternatives to the dollar, various instruments, futures, forward contracts, etc."
Cryptocurrency is providing this financial alternative. Banks can either respect the wants and needs of their customers through facilitating a mutually beneficial relationship with those who wish to deal in both US dollars and crypto—or, they can die a slow economic death as cryptocurrency makes them obsolete.
About the Author
John Vibes is an author and researcher who organizes a number of large events including the Free Your Mind Conference. He also has a publishing company where he offers a censorship free platform for both fiction and non-fiction writers. You can contact him and stay connected to his work at his Facebook page. John is currently battling cancer , and will be working to help others through his experience, if you wish to contribute to his treatments consider subscribing to his podcast to support .
_________________________
Stillness in the Storm Editor's note: Did you find a spelling error or grammar mistake? Do you think this article needs a correction or update? Or do you just have some feedback? Send us an email at sitsshow@gmail.com with the error, headline and url.
Thank you for reading.
________________________________________________________________
Sign-up for RSS Updates:
Subscribe in a reader
Question

-- What is the goal of this website? Why do we share different sources of information that sometimes conflicts or might even be considered disinformation?
Answer

-- The primary goal of Stillness in the Storm is to help all people become better truth-seekers in a real-time boots-on-the-ground fashion. This is for the purpose of learning to think critically, discovering the truth from within—not just believing things blindly because it came from an "authority" or credible source.
Instead of telling you what the truth is, we share information from many sources so that you can discern it for yourself. We focus on teaching you the tools to become your own authority on the truth, gaining self-mastery, sovereignty, and freedom in the process. We want each of you to become your own leaders and masters of personal discernment, and as such, all information should be vetted, analyzed and discerned at a personal level. We also encourage you to discuss your thoughts in the comments section of this site to engage in a group discernment process.
"It is the mark of an educated mind to be able to entertain a thought without accepting it." – Aristotle
The opinions expressed in this article do not necessarily reflect the views of Stillness in the Storm, the authors who contribute to it, or those who follow it.
View and Share our Images.
Curious about Stillness in the Storm?
See our About this blog - Contact Us page.
If it was not for the gallant support of readers, we could not devote so much energy into
continuing this blog. We greatly appreciate any support you provide!
We hope you benefit from this not-for-profit site
It takes hours of work every day to maintain, write, edit, research, illustrate and publish this blog.
We have been greatly
empowered
by our search for the truth, and the work of other researchers. We hope our efforts
to give
back, with this website, helps others in gaining
knowledge, liberation and empowerment.
"There are only two mistakes one can make along the road to truth;
not going all the way, and not starting." — Buddha
If you find our work of value, consider making a Contribution.
This website is supported by readers like you.
[Click on Image below to Contribute]