(Stillness in the Storm Editor) I cannot confirm if the following information is accurate. As always, do your own research and use your own discernment. Mega Anon stated that Q hasn't been authentic since the end of October—but at this stage I can't confirm if that assertion is in fact true. For now, we'll continue to cover both Anon's and if I receive information that appears to validate either, I'll post it accordingly. Finally, Q or Mega Anon are invited to reach out to me so as to broker an alliance for doing the work to make this world a better place.
Source
- Ascension With Earth
by Enerchi, December 5th, 2017
Here is the newest QANON posts for December 4 & 5 , 2017
https://8ch.net/cbts/res/33992.html#34081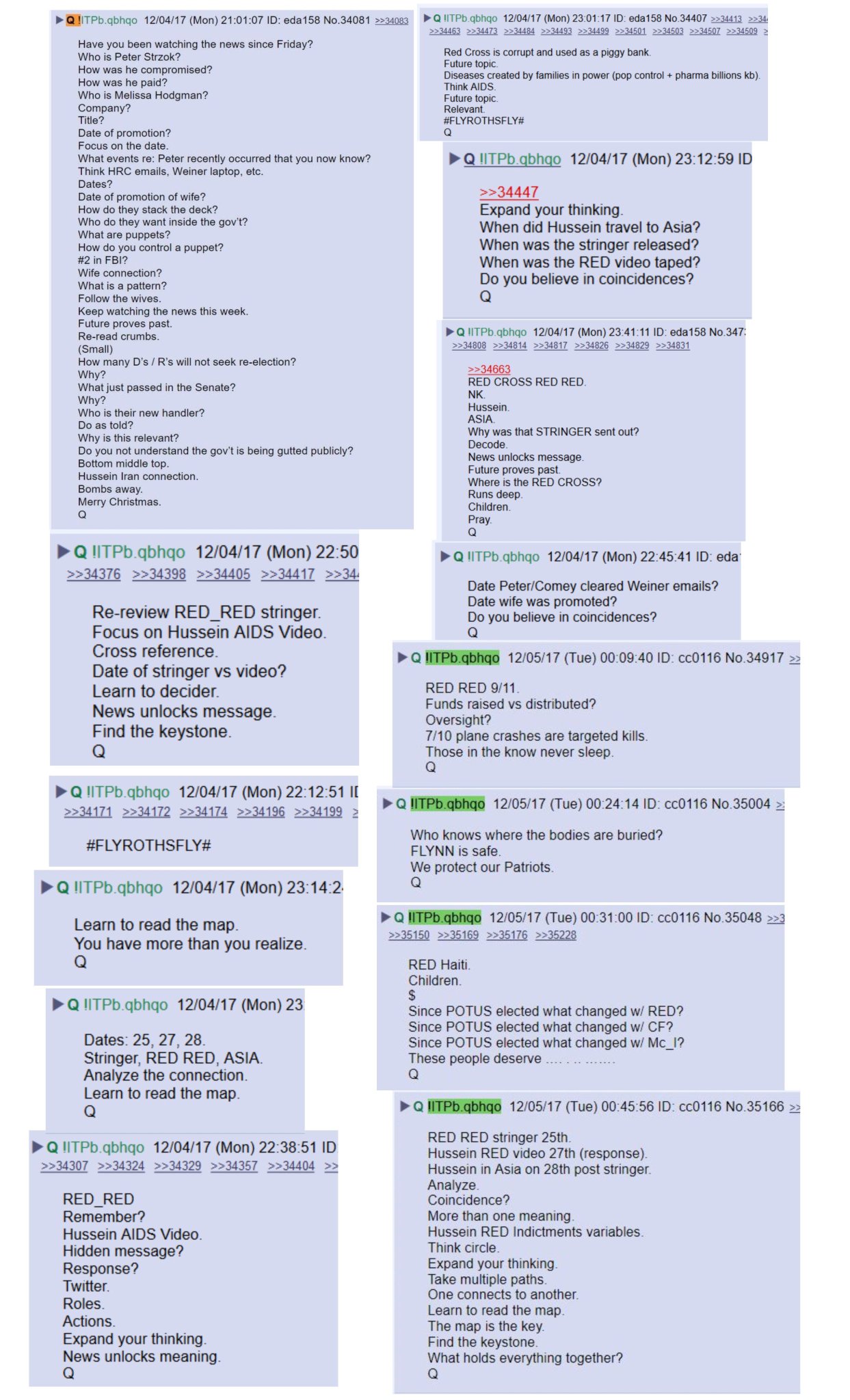 Click here to enlarge.
Have you been watching the news since Friday?
Who is Peter Strzok?
How was he compromised?
How was he paid?
Who is Melissa Hodgman?
Company?
Title?
Date of promotion?
Focus on the date.
What events re: Peter recently occurred that you now know?
Think HRC emails, Weiner laptop, etc.
Dates?
Date of promotion of wife?
How do they stack the deck?
Who do they want inside the gov't?
What are puppets?
How do you control a puppet?
#2 in FBI?
Wife connection?
What is a pattern?
Follow the wives.
Keep watching the news this week.
Future proves past.
Re-read crumbs.
(Small)
How many D's / R's will not seek re-election?
Why?
What just passed in the Senate?
Why?
Who is their new handler?
Do as told?
Why is this relevant?
Do you not understand the gov't is being gutted publicly?
Bottom middle top.
Hussein Iran connection.
Bombs away.
Merry Christmas.
Q
Source Link:
https://8ch.net/cbts/res/33992.html#34081
_________________________
Stillness in the Storm Editor's note: Did you find a spelling error or grammar mistake? Do you think this article needs a correction or update? Or do you just have some feedback? Send us an email at sitsshow@gmail.com with the error, headline and url.
Thank you for reading.
________________________________________________________________
Sign-up for RSS Updates:
Subscribe in a reader
Question

-- What is the goal of this website? Why do we share different sources of information that sometimes conflicts or might even be considered disinformation?
Answer

-- The primary goal of Stillness in the Storm is to help all people become better truth-seekers in a real-time boots-on-the-ground fashion. This is for the purpose of learning to think critically, discovering the truth from within—not just believing things blindly because it came from an "authority" or credible source.
Instead of telling you what the truth is, we share information from many sources so that you can discern it for yourself. We focus on teaching you the tools to become your own authority on the truth, gaining self-mastery, sovereignty, and freedom in the process. We want each of you to become your own leaders and masters of personal discernment, and as such, all information should be vetted, analyzed and discerned at a personal level. We also encourage you to discuss your thoughts in the comments section of this site to engage in a group discernment process.
"It is the mark of an educated mind to be able to entertain a thought without accepting it." – Aristotle
The opinions expressed in this article do not necessarily reflect the views of Stillness in the Storm, the authors who contribute to it, or those who follow it.
View and Share our Images.
Curious about Stillness in the Storm?
See our About this blog - Contact Us page.
If it was not for the gallant support of readers, we could not devote so much energy into
continuing this blog. We greatly appreciate any support you provide!
We hope you benefit from this not-for-profit site
It takes hours of work every day to maintain, write, edit, research, illustrate and publish this blog.
We have been greatly
empowered
by our search for the truth, and the work of other researchers. We hope our efforts
to give
back, with this website, helps others in gaining
knowledge, liberation and empowerment.
"There are only two mistakes one can make along the road to truth;
not going all the way, and not starting." — Buddha
If you find our work of value, consider making a Contribution.
This website is supported by readers like you.
[Click on Image below to Contribute]