(
Matt Agorist
)
Disinformation sites have been reporting this for years as proof a Harvard study found that Apple deliberately slows down phones upon the release of new ones. While those articles have all been fake news designed to get clicks, we now have real proof that Apple throttles processor speeds upon new updates. In fact, Apple admitted to it.

Related Study Suggests That Apple Deliberately Sabotages Old Products, "iPhone Slow" Peaks After Every New Release
Source
-
The Free Thought Project
by Matt Agorist, December 23rd, 2017
Years ago, an
article
in the Daily Mail referenced a Harvard study which showed that just ahead of Apple launching a new iPhone, searches for 'iPhone slow' spiked on Google.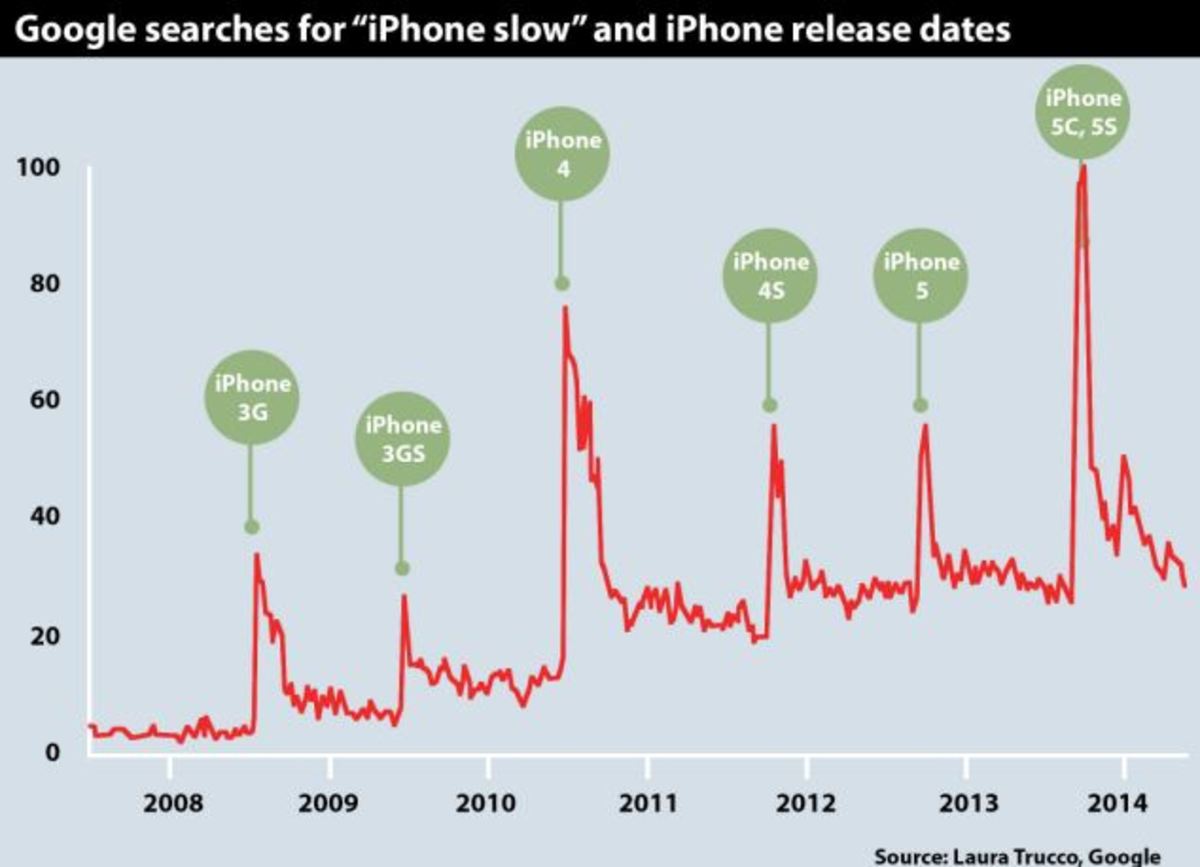 Disinformation sites have been reporting this for years as proof a Harvard study found that Apple deliberately slows down phones upon the release of new ones. While those articles have all been fake news designed to get clicks, we now have real proof that Apple throttles processor speeds upon new updates. In fact, Apple
admitted to
it.
The recent discussion about throttled processor speed began after a Reddit post went viral last week. The op
wrote
that Apple appears to be slowing down old iPhones that have low-capacity batteries. Indeed, they are.
According to Apple, this deliberate throttling of processor speeds on older phones is an effort to keep them running smoothly. Apple claims they are slowing down your older iPhone so they can keep your iPhone from unexpectedly shutting down.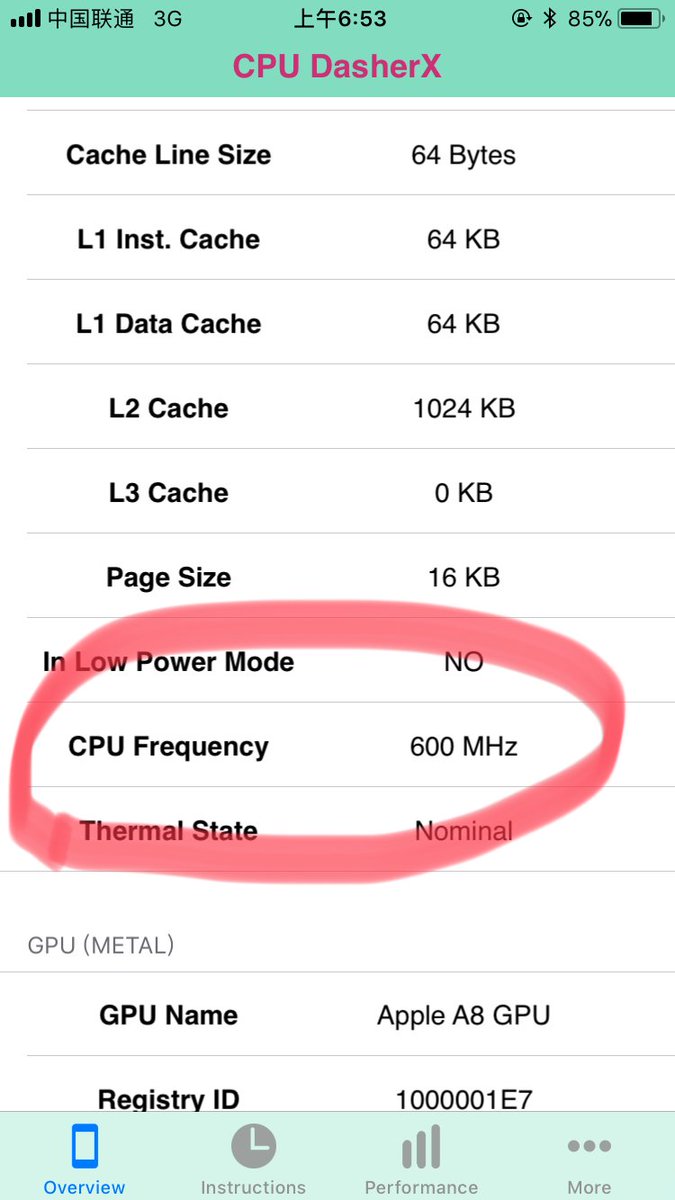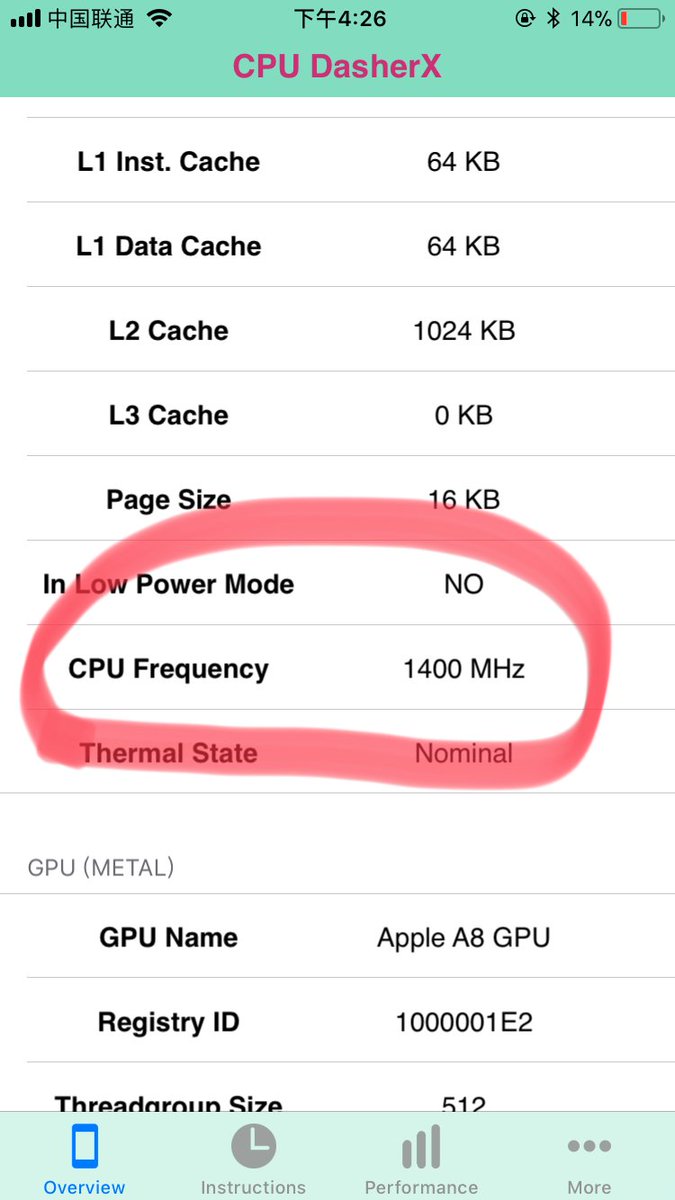 So it's true Apple intentionally slow down old iPhones. Proof: My iPhone 6 was bought 3years ago and recently got really slow. APP 'CPU DasherX' shows iPhone CPU is under clocked running at 600MHz. After a iPhone battery replacement. CPU speed resumed to factory setting 1400MHz.
The throttling, according to Apple, began last year—despite years of reports from users. Instead of fixing a hardware issue after users began to report widespread malfunctions with the iPhone 6s battery, Apple started to algorithmically alter how the phone uses power. The phone feels slower because it actually is slower. Apple says this improves safety.
When reached for comment, Apple
basically confirmed
the findings but disputes the assumed intention:
Our goal is to deliver the best experience for customers, which includes overall performance and prolonging the life of their devices. Lithium-ion batteries become less capable of supplying peak current demands when in cold conditions, have a low battery charge or as they age over time, which can result in the device unexpectedly shutting down to protect its electronic components.
Last year we released a feature for iPhone 6, iPhone 6s and iPhone SE to smooth out the instantaneous peaks only when needed to prevent the device from unexpectedly shutting down during these conditions. We've now extended that feature to iPhone 7 with iOS 11.2, and plan to add support for other products in the future.
Instead of telling customers who bought the phones—which cost upwards of $850—that they were going to throttle the phone's performance, Apple simply rolled out the update and told no one. And now, they have the audacity to call this deliberate throttling a "feature."
It's not just iPhone 6 users either. As the
Verge
reports,
Geekbench developer John Poole
has mapped out performance for the iPhone 6S and iPhone 7 over time, and has come to the conclusion that Apple's iOS 10.2.1 and 11.2.0 updates introduce this throttling for different devices. iOS 10.2.1 is particularly relevant, as this update was
designed to reduce random shutdown issues
for the iPhone 6 and iPhone 6S. Apple's fix appears to be throttling the CPU to prevent the phone from randomly shutting down. Geekbench reports that iOS 11.2.0 introduces similar throttling for low iPhone 7 low-capacity batteries.
Now, this tech giant has begun damage control and is telling everyone that they had to do this to keep the devices working smoothly. But this raises the question: would Apple customers willingly buy a device that they know will be throttled in upcoming updates and not perform like they expect?
Instead of dropping the performance of the devices which many of the users are probably still paying for through their cell carriers, Apple should replace the batteries—at no charge.
As CNBC
notes
, sure it's an expensive undertaking for Apple, but a user should be guaranteed a certain level of performance for the lifetime of a product, until Apple stops supporting it with new software.
However, it appears Apple has no intention of doing so, most likely because the throttling of older iPhones undoubtedly boosts sales of newer ones.
Apple is not alone in this facade of product integrity. In fact, selling products that are designed to fail is now an unfortunate reality among most consumer items. It even has a name—planned obsolescence.
Planned obsolescence or built-in obsolescence is a policy of planning or designing a product with an artificially limited useful life, so it will become obsolete after a certain period of time. The rationale behind the strategy is to generate long-term sales volume by reducing the time between repeat purchases (referred to as "shortening the replacement cycle").
Sound familiar? This appears to be exactly what Apple is doing and it is no coincidence that they are the largest tech company in the world.
The good news is that consumers hold the power. Without your dollars, these companies have nothing. How Apple proceeds is up to you. If you keep paying for a device that you know will begin to degrade six to eight months after you buy it, this is your fault. However, consumers have the power to stop purchasing these iPhones until Apple makes it right.
Will you vote with your dollars and refuse to give the 8th largest company in the world your money until they fix this problem, or, will you roll over and take it, letting them walk all over you? The choice is yours.
About the Author
Matt Agorist is an honorably discharged veteran of the USMC and former intelligence operator directly tasked by the NSA. This prior experience gives him unique insight into the world of government corruption and the American police state. Agorist has been an independent journalist for over a decade and has been featured on mainstream networks around the world. Agorist is also the Editor at Large at the Free Thought Project. Follow @MattAgorist on Twitter, Steemit, and now on Facebook.
_________________________
Stillness in the Storm Editor's note: Did you find a spelling error or grammar mistake? Do you think this article needs a correction or update? Or do you just have some feedback? Send us an email at sitsshow@gmail.com with the error, headline and url.
Thank you for reading.
________________________________________________________________
Sign-up for RSS Updates:
Subscribe in a reader
Question

-- What is the goal of this website? Why do we share different sources of information that sometimes conflicts or might even be considered disinformation?
Answer

-- The primary goal of Stillness in the Storm is to help all people become better truth-seekers in a real-time boots-on-the-ground fashion. This is for the purpose of learning to think critically, discovering the truth from within—not just believing things blindly because it came from an "authority" or credible source.
Instead of telling you what the truth is, we share information from many sources so that you can discern it for yourself. We focus on teaching you the tools to become your own authority on the truth, gaining self-mastery, sovereignty, and freedom in the process. We want each of you to become your own leaders and masters of personal discernment, and as such, all information should be vetted, analyzed and discerned at a personal level. We also encourage you to discuss your thoughts in the comments section of this site to engage in a group discernment process.
"It is the mark of an educated mind to be able to entertain a thought without accepting it." – Aristotle
The opinions expressed in this article do not necessarily reflect the views of Stillness in the Storm, the authors who contribute to it, or those who follow it.
View and Share our Images.
Curious about Stillness in the Storm?
See our About this blog - Contact Us page.
If it was not for the gallant support of readers, we could not devote so much energy into
continuing this blog. We greatly appreciate any support you provide!
We hope you benefit from this not-for-profit site
It takes hours of work every day to maintain, write, edit, research, illustrate and publish this blog.
We have been greatly
empowered
by our search for the truth, and the work of other researchers. We hope our efforts
to give
back, with this website, helps others in gaining
knowledge, liberation and empowerment.
"There are only two mistakes one can make along the road to truth;
not going all the way, and not starting." — Buddha
If you find our work of value, consider making a Contribution.
This website is supported by readers like you.
[Click on Image below to Contribute]