Source - Ascension With Earth
As of November 15, 2017 - 1,428 sealed indictments in 50 of 94 districts
Compiled by
AscensionWithEarth.Com
*************************************************************
Biggest Sting in History, Indictments Growing – with Liz Crokin
Source Link:
http://sarahwestall.com/
Investigative Journalist Liz Crokin joins the program to discuss the latest on the indictments that are coming down. The number of indictments is history making. Never have we had close to this many sealed indictments in our country. Crokin believes it is a massive crackdown on corruption and elite pedophilia. Her background as a White House correspondent for the state department, as an investigative journalist for the Chicago Tribune, and as an investigative journalist covering scandals amongst the elite in Hollywood has given her a backdoor look into the dealings of the elite. She is passionate about taking down the pedophile rings and will not stop until they are shut down.
You can learn more about Liz Crokin at
https://twitter.com/lizcrokin
or on her website at
LizCrokin.com
Please consider supporting the program at
https://www.patreon.com/SarahWestall
************************************************************
Simon Parkes Update - November 16, 2017
Trump Tweets Of Operation Alice In Wonderland Thursday, November 16, 2017


President Trump tweets - 'The time is upon us - operation Alice in Wonderland is about to start'


UPDATE

:

The above is

not

a real tweet from Donald Trump, which you can see yourself by checking

http://www.trumptwitterarchive.com/archive

. Simon Parks may not have properly fact checked this before issuing his update. BE ADVISED.

Clearly the president wishes to alert the people to some subterfuge about to take place. The tweet was swiftly removed around 15 minutes later.

https://www.simonparkes.org/single-post/2017/11/16/Trump-Tweets-Of-Operation-Alice-In-Wonderland

************************************************************
— StormWatcher 🌪 🐇 🇺🇸 ✝ (@damartin32) November 16, 2017
************************************************************
#CBTS Calm Before The Storm Analysis Alice In Wonderland White Rabbit
************************************************************
What Is Donald Trump's Operation Alice In Wonderland? #whoisQanon
***************************************************************
QAnon on 4Chan's covert coup is about the hidden hyperspace kingdoms
QAnon repeatedly mentioned "Alice & Wonderland."
People have decided "Alice" is Hillary Clinton. But as I mentioned in
"Fake N.E.W.S.: "Unboxing the Compass,"
"Alice Rosenbaum," was the real name of Ayn Rand, who wrote about the hidden realm of "Atlantis," where, in her story, the elite go to hide under a forcefield of invisibility while they watch the rest of the world go to Hell. "Alice" is also the name of a project at CERN focusing on creating interdimensional portals.
Continue Reading at .....
http://tracytwyman.com/qanon-on-4chans-covert-coup-is-about-the-hidden-hyperspace-kingdoms/
***************************************************************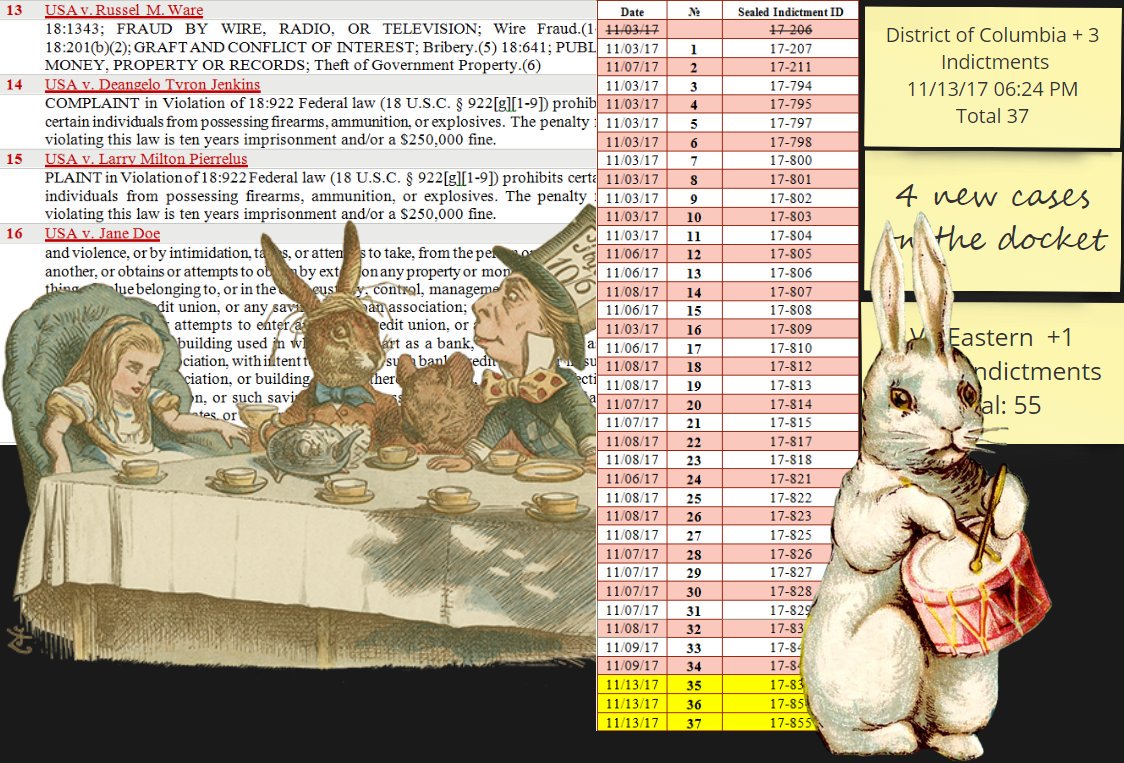 ***************************************************************
_________________________
Stillness in the Storm Editor's note: Did you find a spelling error or grammar mistake? Do you think this article needs a correction or update? Or do you just have some feedback? Send us an email at sitsshow@gmail.com with the error, headline and url.
Thank you for reading.
________________________________________________________________
Sign-up for RSS Updates:
Subscribe in a reader
Question

-- What is the goal of this website? Why do we share different sources of information that sometimes conflicts or might even be considered disinformation?
Answer

-- The primary goal of Stillness in the Storm is to help all people become better truth-seekers in a real-time boots-on-the-ground fashion. This is for the purpose of learning to think critically, discovering the truth from within—not just believing things blindly because it came from an "authority" or credible source.
Instead of telling you what the truth is, we share information from many sources so that you can discern it for yourself. We focus on teaching you the tools to become your own authority on the truth, gaining self-mastery, sovereignty, and freedom in the process. We want each of you to become your own leaders and masters of personal discernment, and as such, all information should be vetted, analyzed and discerned at a personal level. We also encourage you to discuss your thoughts in the comments section of this site to engage in a group discernment process.
"It is the mark of an educated mind to be able to entertain a thought without accepting it." – Aristotle
The opinions expressed in this article do not necessarily reflect the views of Stillness in the Storm, the authors who contribute to it, or those who follow it.
View and Share our Images.
Curious about Stillness in the Storm?
See our About this blog - Contact Us page.
If it was not for the gallant support of readers, we could not devote so much energy into
continuing this blog. We greatly appreciate any support you provide!
We hope you benefit from this not-for-profit site
It takes hours of work every day to maintain, write, edit, research, illustrate and publish this blog.
We have been greatly
empowered
by our search for the truth, and the work of other researchers. We hope our efforts
to give
back, with this website, helps others in gaining
knowledge, liberation and empowerment.
"There are only two mistakes one can make along the road to truth;
not going all the way, and not starting." — Buddha
If you find our work of value, consider making a Contribution.
This website is supported by readers like you.
[Click on Image below to Contribute]