(Rachel Blevins)
Here are 5 fast facts on the reports surrounding the deadliest mass shooting in recent United States history, which has left 50 dead and over 400 injured.
Related BREAKING: False Flag? Las Vegas Shooting Near Mandalay Bay Casino Kills 50
Source - The Free Thought Project
by Rachel Blevins, October 2nd, 2017
A shooting in Las Vegas Sunday night has resulted in reports that indicate the deadliest mass shooting in United States history, with 50 dead and over 400 injured. There have been a number of reports in the hours since the massacre. Here are 5 fast facts:
1. The gunman has been identified as Stephen Craig Paddock, a 64-year-old white male
The Las Vegas Metropolitan Police Department released a
statement
early Monday claiming that "the lone suspect involved in the late night mass shooting on the Las Vegas Strip as 64-year-old, Stephen Craig Paddock, a white male from Mesquite, Nevada."
Related Fourth Floor Shooter Video -- Proof: Media & Law Enforcement Are Lying about the Vegas Shooting
According to a spokesperson for the department, police in the area have had
no previous contact
with Paddock, and the only thing on his record was a minor traffic violation.
— #BeatFSU🏈 (@marclaw69) October 2, 2017
2. Initial reports claimed police shot and killed Paddock—but then changed to claim Paddock was found dead
When reports first surfaced about this shooting, they claimed the gunman was shot and
killed by police
. They then changed to claim that he was
found dead
in his hotel room.
What we know now:

-- More than 50 dead in the deadliest mass shooting in modern American history

-- Gunman, who was killed by police, identified as Stephen Paddock, 64

-- Concertgoers dove for cover as shots came from above, in the Mandalay Bay Hotel

https://t.co/TY9vL38l8K

— Washington Post (@washingtonpost) October 2, 2017
— BBC Breaking News (@BBCBreaking) October 2, 2017
Related Las Vegas Mass Shooting Eyewitness: Crazy Women Warned Concert Goers That Everyone Was Going To Die 45 Minutes Before Shooting
Eric Paddock, the brother of Stephen Paddock,
told
Fox 35 that he was shocked to learn about the shooting, and would never have expected anything like it from his brother. He said Stephen was not affiliated with any groups or religions that would have inspired such an act.
"This really just fell on us," the suspected gunman's brother said. "We had absolutely no idea whatsoever. We have no idea why he did this, and that's what you're going to find out… I can't imagine. What you guys find out about why this happened—let us know."
October 2, 2017
Related Body Language Analysis: Las Vegas Shooter's Brother -- Eric Paddock (Video)
Related 10.2 - Dissecting Vegas Shooting | Puerto Rico Truth | Catalonia | Another Dead Dr. (Video)
3. There were also conflicting reports on the number of gunmen involved in the shooting
The shooting occurred in an open area where around 22,000 people were attending the Route 91 Harvest Festival concert, and because the shooter was reportedly located on the 32nd floor of a nearby hotel, it created a chaotic situation on the ground.
It should be noted that some individuals on Twitter who claimed they were present during the shooting, also insisted that there were multiple shooters.
This was the most terrifying night of my life. 100% there were multiple shooters, it was coming in multiple directions.

https://t.co/d6HpspYpZP

— Amy Lipman (@AmyLipman1) October 2, 2017
While police have confirmed that they have found the lone gunman suspect they were looking for, daylight has shown that at least two windows on the 32nd floor of the Mandalay Bay Hotel were destroyed. If Stephen Paddock was the only one responsible for the shooting, it shows the scope of time and access he had, while carrying out the shooting.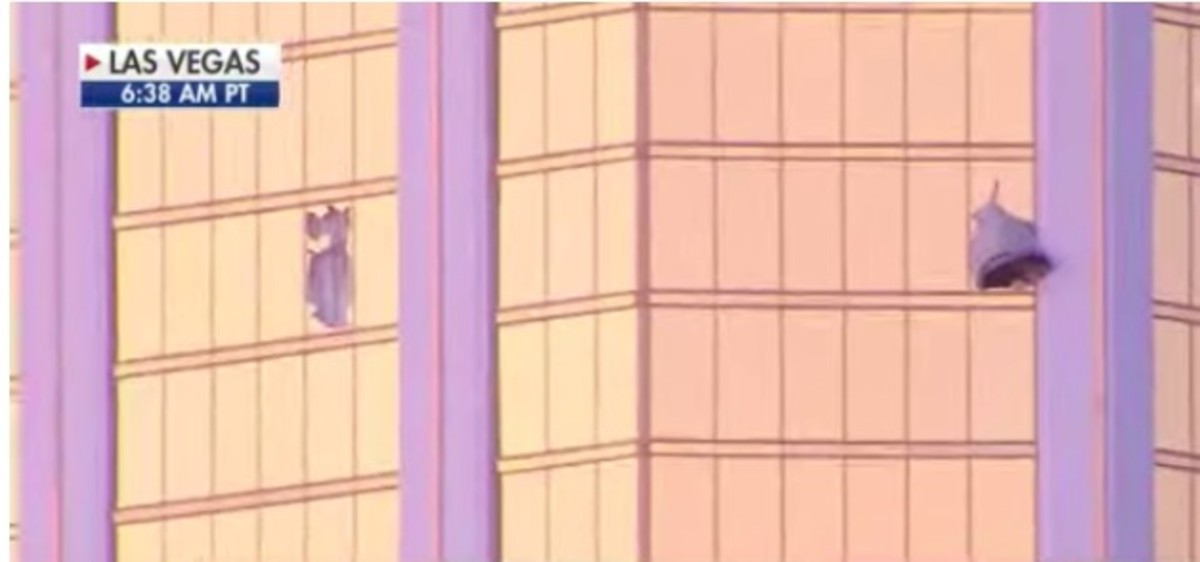 4. Nevada has some of the most relaxed gun laws in the country—which will inevitably come under scrutiny
Stephen Paddock was reportedly
found
"in possession of more than 10 rifles" in his hotel room. While most mass shootings typically result in a number of politicians calling for stricter gun laws, the state of Nevada is unique in that it has some of the most relaxed gun laws in the country.
Nevada allows open carry, does not require the registration of firearms, and has no magazine capacity restriction. Initial reports from witnesses claimed the shooting sounded like it was being carried out with a machine gun. While that has not been confirmed by police, the National Rifle Association
noted
that in the state, "it is lawful to possess, purchase or sell a machine gun or silencer that is legally registered and possessed in compliance with all federal laws and regulations."
— NBC News (@NBCNews) October 2, 2017
5. The media has been hesitant to label this shooting for what it is—terrorism
The suspected gunman has been identified as a "local individual" by police after he took to the 32nd floor of the Mandalay Bay hotel and began firing a barrage of shots outside out of a hotel room window. However, reports have
claimed
that police are not calling the shooting an act of terrorism "at this point."
Steven Paddock, regardless of which group tries to use this tragedy for their cause, is a fucking terrorist. Call him a terrorist!

pic.twitter.com/2ReVdcT3A3

— Matt Agorist (@MattAgorist) October 2, 2017
When President Trump
addressed
the shooting, he referred to it as "an act of pure evil," but refrained from calling it "terrorism."
Related ISIS Claims Responsibility for Vegas: Police Were On Alert After Video Called for the Attack in May
This is in spite of the recent statement from ISIS
claiming responsibility for the attack.
A statement published by the group's Amaq propaganda agency claimed the attacker was a "soldier of the Islamic State".
"The Las Vegas attacker is a soldier of the Islamic State in response to calls to target coalition countries," it said.

In a second statement, Isis claimed the gunman "converted to Islam several months ago".
About The Author
Rachel Blevins

Rachel Blevins is a Texas-based journalist who aspires to break the left/right paradigm in media and politics by pursuing truth and questioning existing narratives. Follow Rachel on Facebook, Twitter and YouTube.
_________________________
Stillness in the Storm Editor's note: Did you find a spelling error or grammar mistake? Do you think this article needs a correction or update? Or do you just have some feedback? Send us an email at sitsshow@gmail.com with the error, headline and url.
Thank you for reading.
________________________________________________________________
Sign-up for RSS Updates:
Subscribe in a reader
Question

-- What is the goal of this website? Why do we share different sources of information that sometimes conflicts or might even be considered disinformation?
Answer

-- The primary goal of Stillness in the Storm is to help all people become better truth-seekers in a real-time boots-on-the-ground fashion. This is for the purpose of learning to think critically, discovering the truth from within—not just believing things blindly because it came from an "authority" or credible source.
Instead of telling you what the truth is, we share information from many sources so that you can discern it for yourself. We focus on teaching you the tools to become your own authority on the truth, gaining self-mastery, sovereignty, and freedom in the process. We want each of you to become your own leaders and masters of personal discernment, and as such, all information should be vetted, analyzed and discerned at a personal level. We also encourage you to discuss your thoughts in the comments section of this site to engage in a group discernment process.
"It is the mark of an educated mind to be able to entertain a thought without accepting it." – Aristotle
The opinions expressed in this article do not necessarily reflect the views of Stillness in the Storm, the authors who contribute to it, or those who follow it.
View and Share our Images.
Curious about Stillness in the Storm?
See our About this blog - Contact Us page.
If it was not for the gallant support of readers, we could not devote so much energy into
continuing this blog. We greatly appreciate any support you provide!
We hope you benefit from this not-for-profit site
It takes hours of work every day to maintain, write, edit, research, illustrate and publish this blog.
We have been greatly
empowered
by our search for the truth, and the work of other researchers. We hope our efforts
to give
back, with this website, helps others in gaining
knowledge, liberation and empowerment.
"There are only two mistakes one can make along the road to truth;
not going all the way, and not starting." — Buddha
If you find our work of value, consider making a Contribution.
This website is supported by readers like you.
[Click on Image below to Contribute]