(Rachel Blevins)
Aerial images were recently released that appear to show U.S. Special Operations Forces and their equipment embedded in ISIS positions in Syria.
Related Media Blackout: Syrian Government Has ISIS Almost Completely Defeated in Syria
Source - The Free Thought Project
by Rachel Blevins, September 24th, 2017
While coverage of the Islamic State's reign of terror in Iraq and Syria has quietly disappeared from the mainstream media, allegations and photos of the United States supporting and funding the group continue to come to the forefront.
— Минобороны России (@mod_russia) September 24, 2017
The latest battle is occurring over Deir er-Zor, the largest city in eastern Syria, where both the U.S. and Russia claim to be fighting against ISIS. However, according to the Russian Ministry of Defense, aerial images of ISIS positions included equipment from U.S. Army Special Forces.
In a
statement
posted on its Facebook page, the Russian Defense Ministry claimed that U.S. Special Operations Forces units "enable US-backed Syrian Democratic Forces units to smoothly advance through the ISIS formations" and because they are facing no resistance from ISIS militants, the Syrian Democratic Forces units are "advancing along the left shore of the Euphrates toward Deir er-Zor."
Russia's MoD claimed the aerial photos were taken on Sept. 8-12 over ISIS locations north of Deir er-Zor. The equipment from American Special Operations Forces came in the form of "a large number" of American Hummer armored vehicles.
The statement noted that even though the presence of the Special Operations Forces would indicate that they were aware of the terrorist group's presence in the area, its actions suggest that "the US troops feel safe in terrorist controlled regions," because there were no calls for an organized screening patrol and there is no evidence of US-led coalition airstrikes to drive out the militants.
"The shots clearly show the US SOF units located at strongholds that had been equipped by the ISIS terrorists. Though there is no evidence of assault, struggle or any US-led coalition airstrikes to drive out the militants. Despite that the US strongholds being located in the ISIS areas, no screening patrol has been organized at them. This suggests that the US troops feel safe in terrorist controlled regions."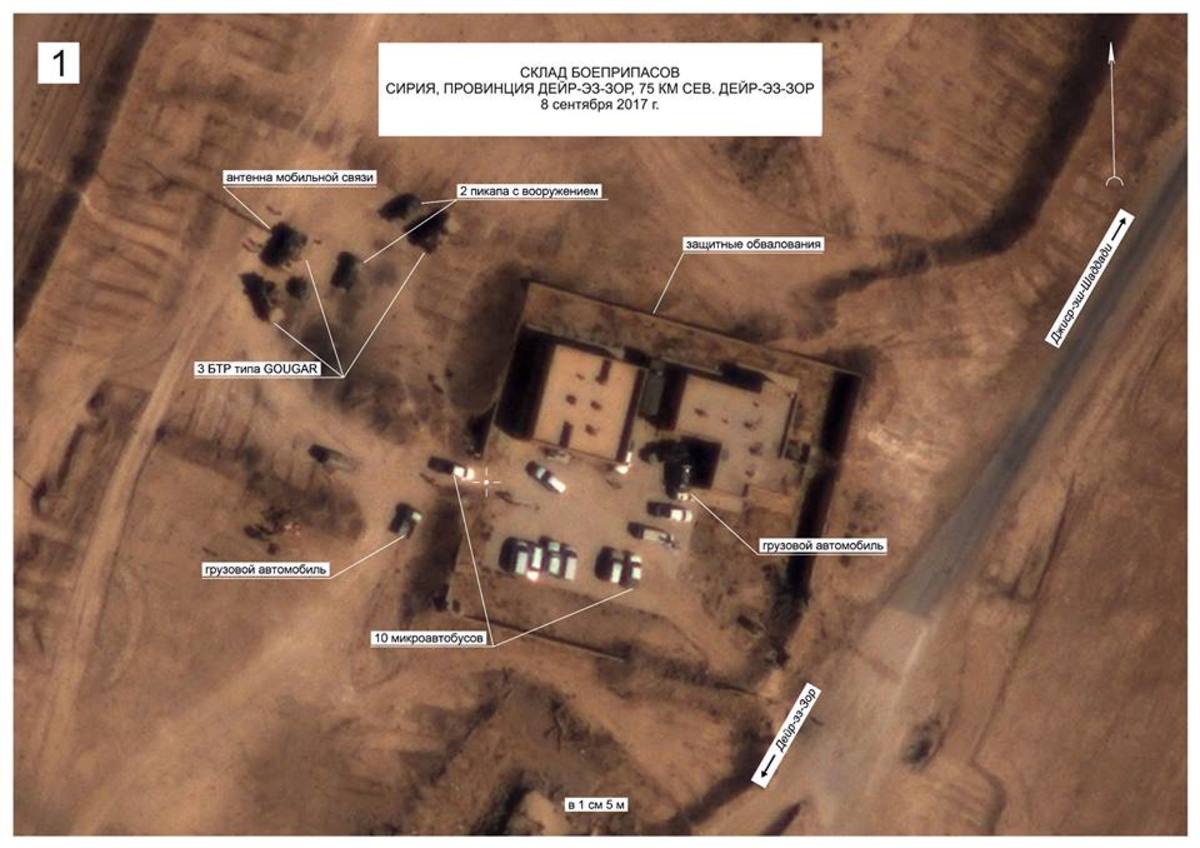 Image via Russian Ministry of Defense
Both the statement and the aerial images from Russia's Ministry of Defense serve as a reminder that the lines are often blurred when it comes to the difference between the Syrian Democratic Forces (which openly receive U.S. funding) and ISIS militants (which have mysteriously received help from the U.S. on a number of occasions).
There have been
accusations
of the U.S. paying the salaries of the "moderate rebels" it was training in Syria, with one rebel commander reportedly saying in July that "U.S. support had been waning for months," but the rebels "had been given their salaries as normal last month."
Russian President Putin alluded to the idea in 2014, when he called out the Obama Administration for arming and training "the Syrians that were fighting Assad," and then noted that both the "moderate rebels" and the "ISIS militants" are mercenaries, often fighting for the side that pays them the largest salary.
"Another threat that President Obama mentioned was ISIS," Putin said. "Well who on earth armed them? Who armed the Syrians that were fighting with Assad? Who created the necessary political information and climate that facilitated this situation? Who pushed for the delivery of arms to the area? Do you really not understand who is fighting in Syria? They are mercenaries mostly. Do you understand they are paid money? Mercenaries fight for whichever side pays more."
There are also a number of circumstances in which U.S. equipment and funding just happened to benefit the Islamic State. In October 2014, the Pentagon admitted that the U.S.
airdropped weapons to ISIS
, and blamed "the wind" for the fact that those weapons were not delivered to Kurdish fighters in Kobani.
In October 2016, the Pentagon was caught paying a PR firm $540 million to
create fake terrorist videos
—much like the ones purported to show ISIS militants beheading innocent civilians. Then in a 2016 audit, the Department of Defense admitted that it could not account for
$1 billion in weapons and equipment
that was meant for forces in Syria, but likely ended up in the hands of ISIS.
In 2017, allegations that U.S. Army Special Operations Forces units were found embedded with ISIS militants are no surprise, given the United States' history of being in the right place at the right time to protect the group from being defeated. As the reports become more and more obvious, it raises the question of whether the U.S. government will ever admit its true role in the conflict.
About The Author
Rachel Blevins

Rachel Blevins is a Texas-based journalist who aspires to break the left/right paradigm in media and politics by pursuing truth and questioning existing narratives. Follow Rachel on Facebook, Twitter and YouTube.
_________________________
Stillness in the Storm Editor's note: Did you find a spelling error or grammar mistake? Do you think this article needs a correction or update? Or do you just have some feedback? Send us an email at sitsshow@gmail.com with the error, headline and url.
Thank you for reading.
________________________________________________________________
Sign-up for RSS Updates:
Subscribe in a reader
Question

-- What is the goal of this website? Why do we share different sources of information that sometimes conflicts or might even be considered disinformation?
Answer

-- The primary goal of Stillness in the Storm is to help all people become better truth-seekers in a real-time boots-on-the-ground fashion. This is for the purpose of learning to think critically, discovering the truth from within—not just believing things blindly because it came from an "authority" or credible source.
Instead of telling you what the truth is, we share information from many sources so that you can discern it for yourself. We focus on teaching you the tools to become your own authority on the truth, gaining self-mastery, sovereignty, and freedom in the process. We want each of you to become your own leaders and masters of personal discernment, and as such, all information should be vetted, analyzed and discerned at a personal level. We also encourage you to discuss your thoughts in the comments section of this site to engage in a group discernment process.
"It is the mark of an educated mind to be able to entertain a thought without accepting it." – Aristotle
The opinions expressed in this article do not necessarily reflect the views of Stillness in the Storm, the authors who contribute to it, or those who follow it.
View and Share our Images.
Curious about Stillness in the Storm?
See our About this blog - Contact Us page.
If it was not for the gallant support of readers, we could not devote so much energy into
continuing this blog. We greatly appreciate any support you provide!
We hope you benefit from this not-for-profit site
It takes hours of work every day to maintain, write, edit, research, illustrate and publish this blog.
We have been greatly
empowered
by our search for the truth, and the work of other researchers. We hope our efforts
to give
back, with this website, helps others in gaining
knowledge, liberation and empowerment.
"There are only two mistakes one can make along the road to truth;
not going all the way, and not starting." — Buddha
If you find our work of value, consider making a Contribution.
This website is supported by readers like you.
[Click on Image below to Contribute]