(Jack Burns)
Last week, Wikileaks dumped what seems to be authentic CIA documents which revealed, among other things, that the spy agency has a way of hacking into smart TV's in order to spy on targeted persons of interest. The data dump, known as the Vault 7 release, also showed the CIA has the ability to hack into Apple phones as well. While the conjugation of the verb is apparently incorrect, when Buzzfeed News recently posted a
tweet
with an attached story which stated Apple had patched its IOS vulnerabilities described in Vault 7, Wikileaks responded with a tweet of its own.
Related BREAKING: WikiLeaks' Vault 7 Shows How CIA Spies on Your TV, Phone, PC, Mac, and More
Source - The Free Thought Project
by Jack Burns, March 13th, 2017
Apple Says It Has Patched The Vulnerabilities Mentioned In The Wikileaks Dump Of CIA Cyber Tools

https://t.co/YbaqMMxbXU

— BuzzFeed News (@BuzzFeedNews) March 8, 2017
The agency, committed to forcing governments to operate with transparency, called Buzzfeed "fakenews" and stated Apple had not been able to patch those weaknesses in its operating system.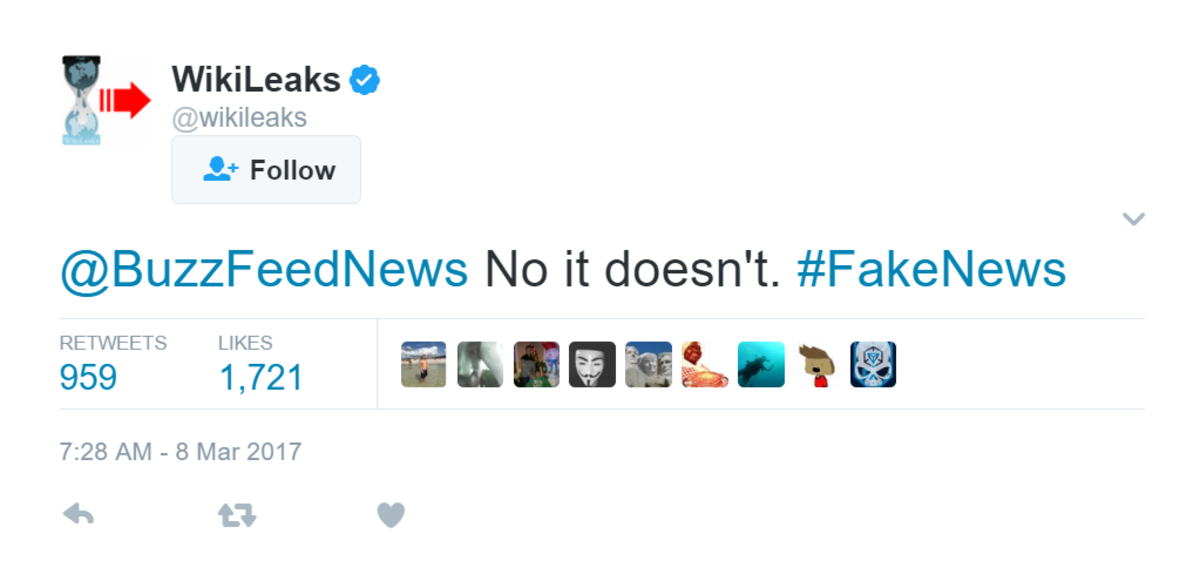 In
Buzzfeed's
own article Apple states: "…our initial analysis indicates that many of the issues leaked today were already patched in the latest iOS…" — not all the issues, as Buzzfeed implied.
At one point, the FBI admitted it had not developed the capability to get into the Apple IOS. Readers may recall James Comey had actually
petitioned Congress
to force Apple to cooperate with the FBI and help the investigative bureau unlock one of the San Bernardino terrorist's iPhones. Then, abruptly, Comey withdrew his request to mandate Apple to cooperate. As a result, those who were following the story began to speculate the FBI had found another way to get inside the phone.
READ MORE: The World Has Spoken! Over 1 Million People Just Demanded Obama Pardon Snowden
With the Wikileaks data dump last week, the world now knows that Apple's proprietary operating system is vulnerable to attack, and there's nothing anyone can do about it. For years, iPhone and Apple users have been under the impression their operating system was not vulnerable to attack from viruses, spyware, or malware. And for decades now, there've been very few issues to cause concern or alarm. But that all changed last week with the revelation the government can penetrate their defenses at will.
According to Wikileaks, there are 14
exploits
the CIA can and does use to gain access to IOS data. The hacking tools have eclectic names as well. Three are named Sal, Rhino, and Ironic, and the archive demonstrates the CIA was in the business of paying certain entities for the rights to the program and its uses.
Even
Wired
reiterated what Buzzfeed stated, that the company (Apple) had fixed the problems which the world's most powerful spy agency exploited.
In the iOS documents: the security issues detailed are all given codenames, such as the Elderpiggy, Juggernaut, and Winterspy. Listed in the details are the types of exploit (e.g. API); the types of access the code run (kernel and remote exploits are featured); what version of iOS the flaw works for; descriptions of the issues; and who it was found by (GCHQ, the NSA, and more are featured). Apple has since said the flaws highlighted in the documents had already been fixed in past patches.
The government's spin machine was in full force over the weekend, with the former CIA deputy director,
Mike Morrell
, calling it an "inside job" and said Americans should, "be proud that their intelligence agency has developed these capabilities to collect intelligence on our adversaries who are trying to undermine our security and in some cases kill Americans. So I think that is how the average American should think about it." He also said earlier that Americans shouldn't be worried about the CIA's hacking operations, saying they're not permitted to target American nationals.
READ MORE: Video Shows How Google Manipulates Searches to Help Hillary Win Election
Well, Mr. Morrell, if that's your real name, and if you're no longer with the agency, it makes no difference to any free thinker. We don't want any intelligence agency operative, former or not, telling us how we should think, especially one which is a part of an intelligence community which has reportedly been known to spy on all Americans.
_________________________
Stillness in the Storm Editor's note: Did you find a spelling error or grammar mistake? Do you think this article needs a correction or update? Or do you just have some feedback? Send us an email at sitsshow@gmail.com with the error, headline and url.
Thank you for reading.
________________________________________________________________
Sign-up for RSS Updates:
Subscribe in a reader
Question

-- What is the goal of this website? Why do we share different sources of information that sometimes conflicts or might even be considered disinformation?
Answer

-- The primary goal of Stillness in the Storm is to help all people become better truth-seekers in a real-time boots-on-the-ground fashion. This is for the purpose of learning to think critically, discovering the truth from within—not just believing things blindly because it came from an "authority" or credible source.
Instead of telling you what the truth is, we share information from many sources so that you can discern it for yourself. We focus on teaching you the tools to become your own authority on the truth, gaining self-mastery, sovereignty, and freedom in the process. We want each of you to become your own leaders and masters of personal discernment, and as such, all information should be vetted, analyzed and discerned at a personal level. We also encourage you to discuss your thoughts in the comments section of this site to engage in a group discernment process.
"It is the mark of an educated mind to be able to entertain a thought without accepting it." – Aristotle
The opinions expressed in this article do not necessarily reflect the views of Stillness in the Storm, the authors who contribute to it, or those who follow it.
View and Share our Images.
Curious about Stillness in the Storm?
See our About this blog - Contact Us page.
If it was not for the gallant support of readers, we could not devote so much energy into
continuing this blog. We greatly appreciate any support you provide!
We hope you benefit from this not-for-profit site
It takes hours of work every day to maintain, write, edit, research, illustrate and publish this blog.
We have been greatly
empowered
by our search for the truth, and the work of other researchers. We hope our efforts
to give
back, with this website, helps others in gaining
knowledge, liberation and empowerment.
"There are only two mistakes one can make along the road to truth;
not going all the way, and not starting." — Buddha
If you find our work of value, consider making a Contribution.
This website is supported by readers like you.
[Click on Image below to Contribute]