(Brianna Acuesta)
When Mark Trifilio, Principal of the public pre-K-5th grade Orchard School in Vermont, took a good look at his students and the way they were learning, he realized that the inconsistencies with assigning homework might be hindering students rather than helping them. Since different teachers in the same grade often have separate lesson plans and homework goals, the children were being unfairly subjected to varying homework loads that weighed them down.
Related 9 Year Old Rocks Modern Day Education By Asking School Board ONE Question
Source - We Are Change
by Brianna Acuesta, March 9th, 2017
After considering the issue for quite some time, and taking a look at some studies that suggested that homework might not be necessary, he decided to take it up with the school's 40 educators at a meeting prior to the beginning of the school year. He put the decision up for a vote and was astonished at the response: all
40 unanimously voted in favor
of doing away with homework.
They decided to trial the idea by
banning homework
for all grades but encouraging students to read at home and play outside. Studies showed that the only beneficial after-school work was reading at home, so each grade has a list of suggested books but no mandatory reading log.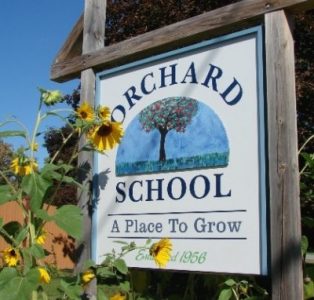 Credit: @OrchardVT/Twitter
The rules on the
school's website
are as follows:
No Homework Policy
Orchard School Homework Information
Student's Daily Home Assignment
1. Read just-right books every night —
(and have your parents read to you, too).
2. Get outside and play —
that does not mean more screen time.
3. Eat dinner with your family —
and help out with setting and cleaning up.
4. Get a good night's sleep.
It's been six months since the inception of the program and the results have been better than expected. The students have reportedly not suffered at all academically and, based on a survey that Trifilio sent home, most parents have appreciated the lack of workload and the focus on reading and playing. Some parents have even reported that their children have improved their reading skills and now no longer need help with at-home reading, going so far as to enjoy that time that they used to dread.
Related Memorizing Facts Teaches "Slave Think" | Teaching Children How to Think Instead of What to Think - Critical Thinking builds Real Knowledge and Self Reliance
One parent told the Associated Press, "I think it gives kids a lot time for mental and physical rest which I think is super important. I think it's really good for parent-teacher-student relations in all directions and I think it just gives kids a chance to use their time for what their passionate and excited about."
The
biggest worry amongst parents
and educators is that this approach wouldn't prepare the children for long-term projects and the daily workload that comes with attending junior high and beyond. Trifilio is working on a plan to address this issue by assigning bigger projects so that the students understand the essence of planning and working towards an educational goal.
This idea is certainly still being run as a trial, but Orchard School isn't the only one trying the new method. Numerous schools across the country have taken note of the success amongst other schools and have implemented similar plans in order to ensure the success of their students.
What are your thoughts on the no homework policy? Please share, like, and comment on this article!
This article (This Elementary School Banned Homework And The Results Were Amazing) is free and open source. You have permission to republish this article under a Creative Commons license with attribution to the author and TrueActivist.com
_________________________
Stillness in the Storm Editor's note: Did you find a spelling error or grammar mistake? Do you think this article needs a correction or update? Or do you just have some feedback? Send us an email at sitsshow@gmail.com with the error, headline and url.
Thank you for reading.
________________________________________________________________
Sign-up for RSS Updates:
Subscribe in a reader
Question

-- What is the goal of this website? Why do we share different sources of information that sometimes conflicts or might even be considered disinformation?
Answer

-- The primary goal of Stillness in the Storm is to help all people become better truth-seekers in a real-time boots-on-the-ground fashion. This is for the purpose of learning to think critically, discovering the truth from within—not just believing things blindly because it came from an "authority" or credible source.
Instead of telling you what the truth is, we share information from many sources so that you can discern it for yourself. We focus on teaching you the tools to become your own authority on the truth, gaining self-mastery, sovereignty, and freedom in the process. We want each of you to become your own leaders and masters of personal discernment, and as such, all information should be vetted, analyzed and discerned at a personal level. We also encourage you to discuss your thoughts in the comments section of this site to engage in a group discernment process.
"It is the mark of an educated mind to be able to entertain a thought without accepting it." – Aristotle
The opinions expressed in this article do not necessarily reflect the views of Stillness in the Storm, the authors who contribute to it, or those who follow it.
View and Share our Images.
Curious about Stillness in the Storm?
See our About this blog - Contact Us page.
If it was not for the gallant support of readers, we could not devote so much energy into
continuing this blog. We greatly appreciate any support you provide!
We hope you benefit from this not-for-profit site
It takes hours of work every day to maintain, write, edit, research, illustrate and publish this blog.
We have been greatly
empowered
by our search for the truth, and the work of other researchers. We hope our efforts
to give
back, with this website, helps others in gaining
knowledge, liberation and empowerment.
"There are only two mistakes one can make along the road to truth;
not going all the way, and not starting." — Buddha
If you find our work of value, consider making a Contribution.
This website is supported by readers like you.
[Click on Image below to Contribute]