(John Vibes)
A conference known as the Bilderberg meeting has developed an interesting reputation over the past half-century, with millions of people around the world suspecting that global events like wars and financial policy shifts are planned at this annual event. When this meeting is brought up in mainstream circles, it is often disregarded as "conspiracy theory" but there has been significant evidence compiled by independent journalists over the event's long history.

Related History of The Bilderberg Group: Founded by A Nazi And Continuing The Agenda of The Nazis
Source - The Free Thought Project
by John Vibes, March 3rd, 2017
Many people don't trust independent researchers because they have a bias towards the mainstream media, but perhaps they will be more inclined to take a declassified report from the CIA. According to declassified documents unveiled by the agency, the CIA has had its eye on the Bilderberg group since just before its first meeting on May 21, 1954.
Michael Best of Muckrock
recently poured through the
CREST archives
for references to Bilderberg and found a few interesting documents that point to the CIA's interest in the Bilderberg meetings. One thing that is not exactly clear is the motive that the CIA had for documenting these meetings, especially considering the fact that the CIA director at the time Allen Dulles, was an associate of the Rockefeller dynasty, who was mentioned by names in these documents. Also, many conference attendees over the years have actually been employed by the CIA. In the recently surfaced documents, the name Paul Nitze is mentioned as a member of the first Bilderberg conference, and just years later he was hired by the agency.
Four years after the first conference took place, one member of the Bilderberg group actually reached out to Dulles personally to inform him about the meetings. In May of 1958, Joseph Johnson of the Carnegie Endowment for International Peace and the Bilderberg Steering Committee sent Dulles a summary of the issues discussed at Bilderberg. Of course, these summaries were not released to the public, but the letters about the summaries were released, which at least give proof of the existence of Bilderberg, although it does not give details of what takes place inside.
READ MORE: Congresswoman Proposes Radical Solution to Refugee Crisis, "Stop Arming Terrorists"
Click to enlarge below image.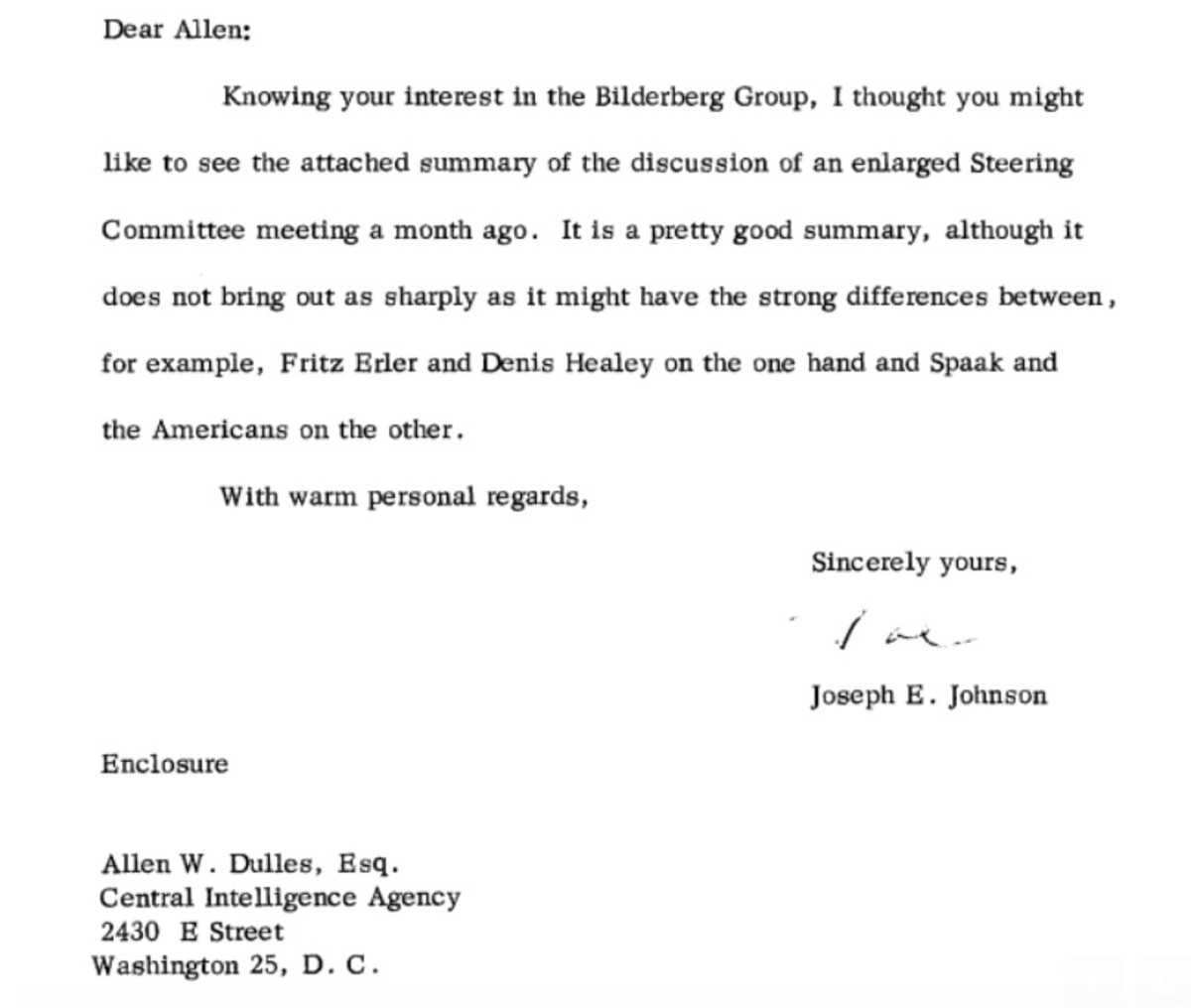 The next year, Johnson wrote Dulles again about the Bilderberg group, but this time, it was to discuss his own invitation, confirming that long-time CIA director Allen Dulles was himself involved in the secretive meeting.
Click to enlarge below image.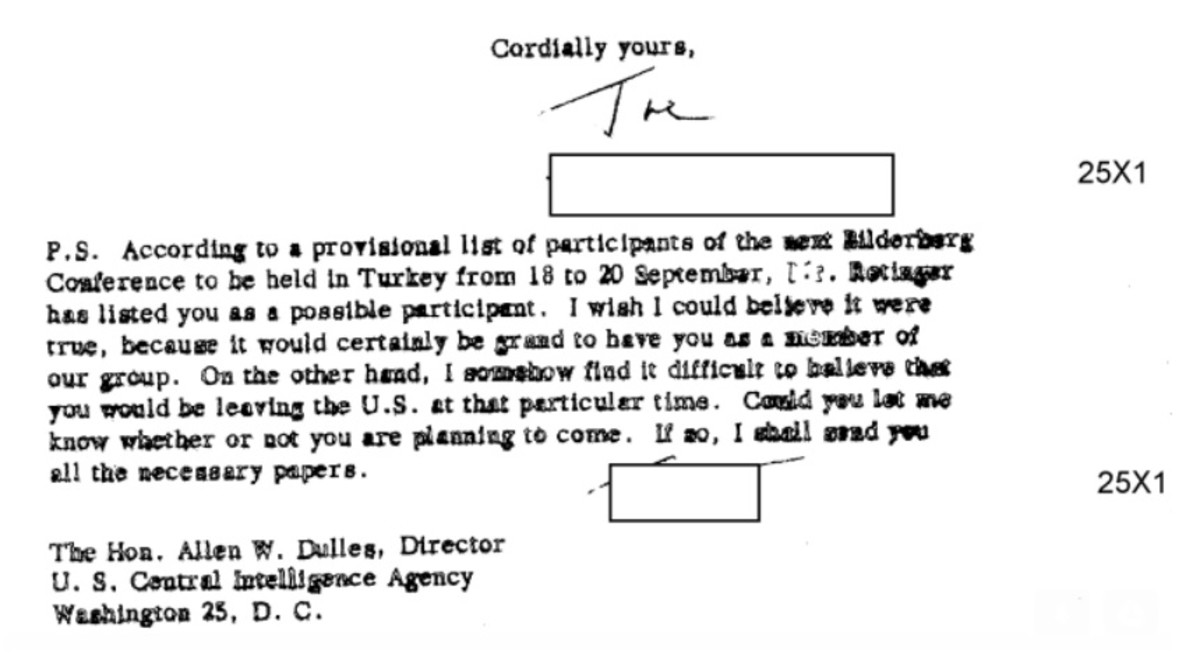 Dulles wrote back saying that although he was not able to attend this year, that he had hoped to in the future.
Although these documents only give a glimpse into the agency's relationship with the Bilderberg group, it does show a clear connection and friendly relations between the two. Several more mentions of Bilderberg appear in the agency's records, but most of these mentions are in reference to appearances made by CIA agents and US presidents.
These documents are groundbreaking because for so long the US government and mainstream media have denied that these meetings even existed, and now it is proven that at least one agency and multiple presidents had knowledge of these events.
About The Author
John Vibes is an author and researcher who organizes a number of large events including the Free Your Mind Conference. He also has a publishing company where he offers a censorship free platform for both fiction and non-fiction writers. You can contact him and stay connected to his work at his Facebook page. John is currently battling cancer naturally, without any chemo or radiation, and will be working to help others through his experience, if you wish to contribute to his treatments please donate here.
_________________________
Stillness in the Storm Editor's note: Did you find a spelling error or grammar mistake? Do you think this article needs a correction or update? Or do you just have some feedback? Send us an email at sitsshow@gmail.com with the error, headline and url.
Thank you for reading.
________________________________________________________________
Sign-up for RSS Updates:
Subscribe in a reader
Question

-- What is the goal of this website? Why do we share different sources of information that sometimes conflicts or might even be considered disinformation?
Answer

-- The primary goal of Stillness in the Storm is to help all people become better truth-seekers in a real-time boots-on-the-ground fashion. This is for the purpose of learning to think critically, discovering the truth from within—not just believing things blindly because it came from an "authority" or credible source.
Instead of telling you what the truth is, we share information from many sources so that you can discern it for yourself. We focus on teaching you the tools to become your own authority on the truth, gaining self-mastery, sovereignty, and freedom in the process. We want each of you to become your own leaders and masters of personal discernment, and as such, all information should be vetted, analyzed and discerned at a personal level. We also encourage you to discuss your thoughts in the comments section of this site to engage in a group discernment process.
"It is the mark of an educated mind to be able to entertain a thought without accepting it." – Aristotle
The opinions expressed in this article do not necessarily reflect the views of Stillness in the Storm, the authors who contribute to it, or those who follow it.
View and Share our Images.
Curious about Stillness in the Storm?
See our About this blog - Contact Us page.
If it was not for the gallant support of readers, we could not devote so much energy into
continuing this blog. We greatly appreciate any support you provide!
We hope you benefit from this not-for-profit site
It takes hours of work every day to maintain, write, edit, research, illustrate and publish this blog.
We have been greatly
empowered
by our search for the truth, and the work of other researchers. We hope our efforts
to give
back, with this website, helps others in gaining
knowledge, liberation and empowerment.
"There are only two mistakes one can make along the road to truth;
not going all the way, and not starting." — Buddha
If you find our work of value, consider making a Contribution.
This website is supported by readers like you.
[Click on Image below to Contribute]