Source - Exopolitics
by Dr. Michael Salla, December 6th 2016
Many have been pondering the significance of recent visits to Antarctica by prominent officials and individuals offering puzzling explanations for their travel there. On November 9, U.S. Secretary of State, John Kerry, landed in Antarctica, during the peak of the U.S. Presidential Election. Why would the serving Secretary of State leave the U.S. at such a critical time just to observe global warming patterns in Antarctica?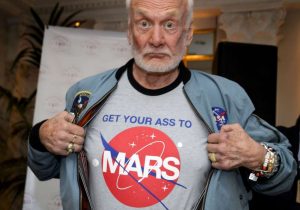 Even more mysterious was the December 1 medical evacuation of astronaut Buzz Aldrin out of Antarctica, after a surprise visit there, apparently to become "the oldest person to reach the South Pole at the age of 86." He was seen along with companions wearing shirts with "Get Your Ass to Mars" logos. Was he there because he wanted to personally see the discovery of something that would make his dream of Mars colonization a reality?
Earlier on February 18, 2016, Russian Patriarch Kirill visited a Russian outpost in Antarctica, reportedly to see penguins. Just over a month later, on March 23, President Obama visited the southern Argentinian resort town of Bariloche, which is claimed to have been the secret hideaway of Adolf Hitler after World War II. Bariloche became the unofficial capital of a breakaway German civilization based in Antarctica, and it is claimed that there is a hidden tunnel system from there to Antarctica. Also noteworthy, Presidents Eisenhower and Clinton have visited Bariloche.
The real reason for all these mysterious visits to Antarctica, and nearby locations such as Bariloche, is about to be revealed according to Secret Space Program whistleblower, Corey Goode. He says he was given time sensitive intelligence about an impending official announcement of the discovery of ruins from a futuristic civilization found in Antarctica.
Goode's data is about to be released according to a December 6 update by David Wilcock who conducts a highly popular interview series on Gaia TV with Goode titled Cosmic Disclosure. In an article titled, "ENDGAME: Disclosure and the Final Defeat of the Cabal," Wilcock writes:
Imagine if you woke up one day to see hyper-futuristic ruins being revealed in Antarctica. You're not seeing this on Ancient Aliens or on alternative news sites, but everywhere… on every major media platform there is.
Imagine journalists and military officials revealing these incredible findings—in videos shot on location. An event of this magnitude could be far more distracting than any 9/11-style catastrophe.
The power elite may well be hoping that such a civilization-defining "game changer" could make any and all preceding news stories irrelevant and forgotten.
Wilcock goes on to discuss what he believes is the ulterior motive for announcing such a monumental discovery at this time. He asserts it is designed to distract the mass public from recent Wikileaks revelations concerning "Pizzagate", and the involvement of high level officials in both the Clinton and Obama administrations in pedophilia rings which involve child sacrifice. Bill Clinton's former chief of staff, John Podesta, who was also Obama's Counselor and senior advisor, as well as heading the Hillary Clinton campaign, figures prominently in the Pizzagate scandal.
CONTINUE READING @ exopolitics.org
_________________________
Stillness in the Storm Editor's note: Did you find a spelling error or grammar mistake? Do you think this article needs a correction or update? Or do you just have some feedback? Send us an email at sitsshow@gmail.com.
Thank you for reading.
_________

Source:
http://exopolitics.org/impending-announcement-of-ruins-from-futuristic-civilization-found-in-antarctica/
________________________________________________________________
Sign-up for RSS Updates:
Subscribe in a reader
Question

-- What is the goal of this website? Why do we share different sources of information that sometimes conflicts or might even be considered disinformation?
Answer

-- The primary goal of Stillness in the Storm is to help all people become better truth-seekers in a real-time boots-on-the-ground fashion. This is for the purpose of learning to think critically, discovering the truth from within—not just believing things blindly because it came from an "authority" or credible source.
Instead of telling you what the truth is, we share information from many sources so that you can discern it for yourself. We focus on teaching you the tools to become your own authority on the truth, gaining self-mastery, sovereignty, and freedom in the process. We want each of you to become your own leaders and masters of personal discernment, and as such, all information should be vetted, analyzed and discerned at a personal level. We also encourage you to discuss your thoughts in the comments section of this site to engage in a group discernment process.
"It is the mark of an educated mind to be able to entertain a thought without accepting it." – Aristotle
The opinions expressed in this article do not necessarily reflect the views Stillness in the Storm, the authors who contribute to it, or those who follow it.
View and Share our Images.
Curious about Stillness in the Storm?
See our About this blog - Contact Us page.
If it was not for the gallant support of readers, we could not devote so much energy into
continuing this blog. We greatly appreciate any support you provide!
We hope you benefit from this not-for-profit site
It takes hours of work every day to maintain, write, edit, research, illustrate and publish this blog.
We have been greatly
empowered
by our search for the truth, and the work of other researchers. We hope our efforts
to give
back, with this website, helps others in gaining
knowledge, liberation and empowerment.
"There are only two mistakes one can make along the road to truth;
not going all the way, and not starting." — Buddha
If you find our work of value, consider making a Contribution.
This website is supported by readers like you.
[Click on Image below to Contribute]