Discovery of an advanced civilization in Antarctica that was flash frozen has shocked political and scientific figures that have witnessed it, according to secret space program whistleblower Corey Goode in a
December 11 update
.
Related The 'Lost City' of Antarctica Shock Claims Massive Ancient Civilisation Lies Frozen Beneath Mile of Antarctic Ice – and Could Even Be Atlantis
Source - Exopolitics
by Dr. Michael Salla, December 12th, 2016
In
part one
, I described how Goode's military abductor "Sigmund" from a USAF/DIA/NSA/NRO secret space program, had learned of the existence of more advanced classified space programs such as Solar Warden from Goode. During Goode's abduction on October 26,
Sigmund revealed
more information about his own activities, including time spent in Antarctica:
Furthermore he told me that he had been stationed at several military installations in Antarctica and had spent time in the very area where the Anshar had taken me on a reconnaissance flight.
Goode has previously written a report describing an extensive tour of Antarctica facilities controlled by the Interplanetary Corporate Conglomerate, another secret space program he discussed in depth, by an ancient Inner Earth civilization called the Anshar.
Sigmund then went on to describe recent discoveries in Antarctica, which explain the growing scientific, political and religious interest over the frozen continent:
He [Sigmund] stated that an extremely ancient series of cities had been discovered flash frozen deep under the ice-shelf. He confirmed that there were also many animals and "pre-Adamites" preserved in the ice…. They were all flattened/ crushed or knocked over by the event that flash froze the area. They have tons of trees/ plants and wildlife frozen in place, like they were put on pause.
This is startling confirmation of the research conducted by Sir Charles Hapgood who has previously studied evidence of pole shifts that have led to the Earth's axis of rotation shifting dramatically in a short period, where sub-tropical areas might suddenly find themselves at the poles.
Polar wandering is based on the idea that the outer shell of the earth shifts about from time to time, moving some continents toward and other continents away from the poles. Continental drift is based on the idea that the continents move individually…A few writers have suggested that perhaps continental drift causes polar wandering. This book advances the notion that polar wandering is primary and causes the displacement of continents….This book will present evidence that the last shift of the earth's crust (the lithosphere) took place in recent time, at the close of the last ice age, and that it was the cause of the improvement in climate."
Hapgood's thesis that the last pole shift had happened at the end of the last ice age about 11,000 BC had apparently been startlingly confirmed by the discovery of a flash frozen Antarctica civilization.
Furthermore, this also confirms that the Oronteus Fineus map, which shows an ice-free Antarctica, is based on ancient historical records where Antarctica once possessed a thriving civilization before a devastating Pole Shift event.
As to the question of when the Antarctica discovery was made, Goode says:
The first discoveries occurred some time back, not sure. They had an idea of what was below the ice after doing very high-tech scans from space. They had been excavating one site and discovered many, many others spread out across what used to be dry ground. This happened over time.
They have been studying what they are finding, and moving some of it out before bringing in various bigwigs from various secret societies. Then they do tours like the "Cabal Disneyland" they have in the stasis chamber in Ohio. They are continuing to excavate, but know what is around in the areas where they have cleared away the ice.
They are worried that all of the steam excavation could cause the surface of the ice shelf to collapse down on the sites they have uncovered. I think they would have to go public in some sort of a way to go bigger on this excavation and widen it.
Goode provided the following artistic sketch of the Antarctica discovery.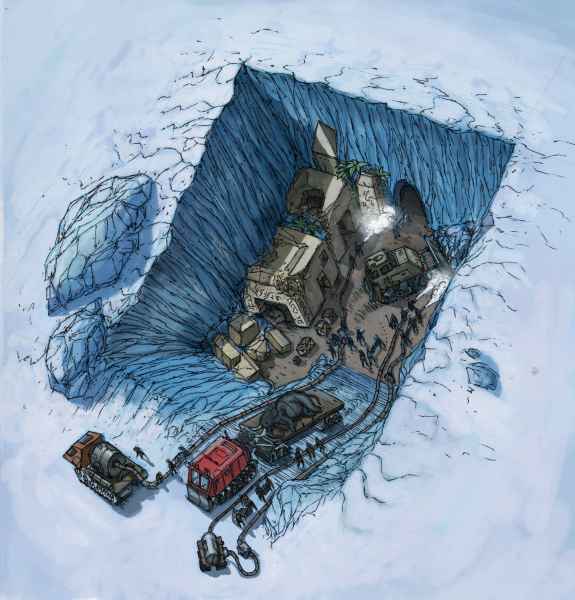 Such a discovery is clearly Earth-shattering news for the archeological community, and explains why prominent world figures such as U.S. Secretary of State John Kerry, Astronaut Buzz Aldrin and Russian Orthodox Church Patriarch Kirill, have recently traveled to Antarctica to see the discoveries first hand. Goode asserts:
CONTINUE READING @ exopolitics.org
_________________________
Stillness in the Storm Editor's note: Did you find a spelling error or grammar mistake? Do you think this article needs a correction or update? Or do you just have some feedback? Send us an email at sitsshow@gmail.com.
Thank you for reading.
_________

Source:
http://exopolitics.org/discovery-of-flash-frozen-antarctica-civilization/
________________________________________________________________
Sign-up for RSS Updates:
Subscribe in a reader
Question

-- What is the goal of this website? Why do we share different sources of information that sometimes conflicts or might even be considered disinformation?
Answer

-- The primary goal of Stillness in the Storm is to help all people become better truth-seekers in a real-time boots-on-the-ground fashion. This is for the purpose of learning to think critically, discovering the truth from within—not just believing things blindly because it came from an "authority" or credible source.
Instead of telling you what the truth is, we share information from many sources so that you can discern it for yourself. We focus on teaching you the tools to become your own authority on the truth, gaining self-mastery, sovereignty, and freedom in the process. We want each of you to become your own leaders and masters of personal discernment, and as such, all information should be vetted, analyzed and discerned at a personal level. We also encourage you to discuss your thoughts in the comments section of this site to engage in a group discernment process.
"It is the mark of an educated mind to be able to entertain a thought without accepting it." – Aristotle
The opinions expressed in this article do not necessarily reflect the views Stillness in the Storm, the authors who contribute to it, or those who follow it.
View and Share our Images.
Curious about Stillness in the Storm?
See our About this blog - Contact Us page.
If it was not for the gallant support of readers, we could not devote so much energy into
continuing this blog. We greatly appreciate any support you provide!
We hope you benefit from this not-for-profit site
It takes hours of work every day to maintain, write, edit, research, illustrate and publish this blog.
We have been greatly
empowered
by our search for the truth, and the work of other researchers. We hope our efforts
to give
back, with this website, helps others in gaining
knowledge, liberation and empowerment.
"There are only two mistakes one can make along the road to truth;
not going all the way, and not starting." — Buddha
If you find our work of value, consider making a Contribution.
This website is supported by readers like you.
[Click on Image below to Contribute]