(Stillness in the Storm Editor) With all the talk of Antarctica lately, was Buzz Aldrin's tweet about danger and evil mean something of significance? The tweet was deleted soon after it was posted. This is one data point that may be more meaningful as time goes on.
Update
: I just got word that the tweet may not be authentic. Be advised.
Dr. Michael Salla Reported that it MAY be fake. -
"Update: Looks like this may be a fake news tweet after all. No confirmation to date, and problems with missing time stamp and standard formatting for Twitter posts. Need to be very careful with what appears to be a rapid increase in fake news posts"
Update
: The Superstation 85 website added more resource information for this story, which many were claiming was a fake tweet. Apparently the tweet was deleted but screen captures were done before hand that are now the primary source data.
SOURCES for Buzz Aldrin's Tweet:
https://twitter.com/slone/status/806552107671257090 (Original)

https://twitter.com/NightHorn/status/807199406869086213 (Second Source)
Related Buzz Aldrin Is Medically Evacuated From Antarctica -- Secret Meetings with ETs or Shadow Government?
Related Antarctic "Pyramids" and Ruins Could be Used in Partial Disclosure Psyop
Source - Ascension With Earth
We are about to release the Part 2 update that will cover quite a lot of exciting news from Antarctica. Amazing...

https://t.co/cc0XH1Qing

— SphereBeingAlliance (@blueavians) December 9, 2016
Astronaut Buzz Aldrin Tweets "We are all in Danger. It is evil itself"
Dec 07, 2016
United States Astronaut Buzz Aldrin Tweeted an ominous message to the world using his official, verified Twitter Account, then strangely deleted the tweet later. His words:
"We are all in danger. It is evil itself."
and showed a photograph of a pyramid located at the South Pole as show here.
Mr. Aldrin seems to be referring to this object, as seen in an serial photo from Google Earth:
The "pyramid is located not far from the United Kingdom's "Princess Elisabeth Station" at the South Pole, as shown in this photo, below:
As has been reported by worldwide media, US Secretary of State John Kerry recently traveled to the South Pole, allegedly to become better informed about "Climate Change." Kerry was the highest ranking US government official ever to visit the South Pole, and his visit struck many as unusual. Few saw any purpose whatsoever to sending America's top Diplomat to the farthest reaches of the earth to see . . . ice.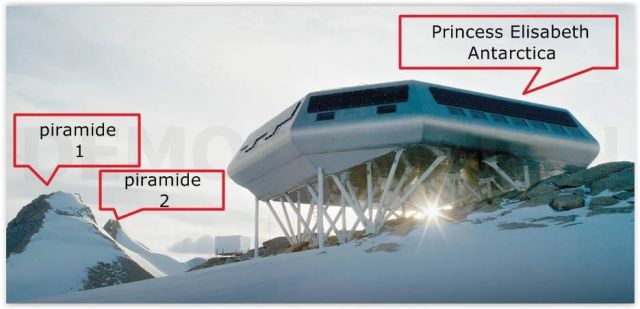 Now, with Buzz Aldrin's tweet, and its strange deletion, folks are wondering if sending America's top Diplomat to no-man's land, perhaps had something to do with Diplomacy after all. Is there some entity there with which we need Diplomatic contact?
If so, why did Buzz Aldrin warn that we are all in danger? Why did he call it "Evil itself?"
If there is something at the South Pole which may be "evil itself" then let humanity know about it so we can all decide upon a course of action to deal with it; even if the decision is to leave it be. But since a trusted and respected Astronaut has told us "We're all in danger" then whatever is there, has just become ALL of our business to decide what to do.
More on this developing story as information becomes available.
Last modified on Wednesday, 07 December 2016 14:05
https://www.superstation95.com/index.php/world/2639
_________________________
Stillness in the Storm Editor's note: Did you find a spelling error or grammar mistake? Do you think this article needs a correction or update? Or do you just have some feedback? Send us an email at sitsshow@gmail.com.
Thank you for reading.
_________

Source:
http://www.ascensionwithearth.com/2016/12/corey-goode-update-astronaut-buzz.html
________________________________________________________________
Sign-up for RSS Updates:
Subscribe in a reader
Question

-- What is the goal of this website? Why do we share different sources of information that sometimes conflicts or might even be considered disinformation?
Answer

-- The primary goal of Stillness in the Storm is to help all people become better truth-seekers in a real-time boots-on-the-ground fashion. This is for the purpose of learning to think critically, discovering the truth from within—not just believing things blindly because it came from an "authority" or credible source.
Instead of telling you what the truth is, we share information from many sources so that you can discern it for yourself. We focus on teaching you the tools to become your own authority on the truth, gaining self-mastery, sovereignty, and freedom in the process. We want each of you to become your own leaders and masters of personal discernment, and as such, all information should be vetted, analyzed and discerned at a personal level. We also encourage you to discuss your thoughts in the comments section of this site to engage in a group discernment process.
"It is the mark of an educated mind to be able to entertain a thought without accepting it." – Aristotle
The opinions expressed in this article do not necessarily reflect the views Stillness in the Storm, the authors who contribute to it, or those who follow it.
View and Share our Images.
Curious about Stillness in the Storm?
See our About this blog - Contact Us page.
If it was not for the gallant support of readers, we could not devote so much energy into
continuing this blog. We greatly appreciate any support you provide!
We hope you benefit from this not-for-profit site
It takes hours of work every day to maintain, write, edit, research, illustrate and publish this blog.
We have been greatly
empowered
by our search for the truth, and the work of other researchers. We hope our efforts
to give
back, with this website, helps others in gaining
knowledge, liberation and empowerment.
"There are only two mistakes one can make along the road to truth;
not going all the way, and not starting." — Buddha
If you find our work of value, consider making a Contribution.
This website is supported by readers like you.
[Click on Image below to Contribute]
Save
Save