Related William Tompkins Articles and Updates
Source - Exopolitics
by Dr. Michael Salla, October 3rd 2016
The sensational claim by retired aerospace engineer, William Tompkins, that he was involved in a covert operation out of Nazi Germany, which provided intelligence on antigravity vehicles that helped launch a secret U.S. Navy space program, has just been given a boost by documents recently obtained by the Freedom of Information Act (FOIA).
A number of the documents confirm that the signature on two exit passes provided by Tompkins,who says he carried intelligence briefing packets out Naval Air Station San Diego about the Nazi antigravity craft to U.S. aerospace research facilities, belonged to Rear Admiral Rico Botta.
Another FOIA document, along with one of the exit passes, supports Tompkins' claim that he was directed by Admiral Botta to use his personal plane to take briefing materials to advanced U.S. aerospace facilities working on experimental aircraft.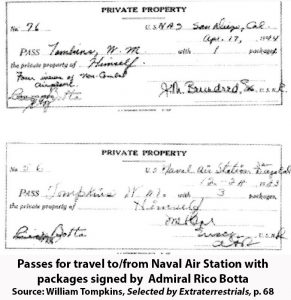 The two exit passes are dated December 12, 1943 and April 17, 1944 and respectively refer to Tompkins being permitted to carry one and three packages out of the Naval Air Station. These exit passes display a signature which Tompkins states belong to Admiral Rico Botta, who was the Assembly and Repair Officer for the Naval Air Station.
Botta's signature, which appears on a number of the FOIA documents received from the National Archives, matches the signature on the exit passes..
An example of Botta's signature appears on a Navy personnel file with his photo dated from 1934 when he was a Lieutenant Commander.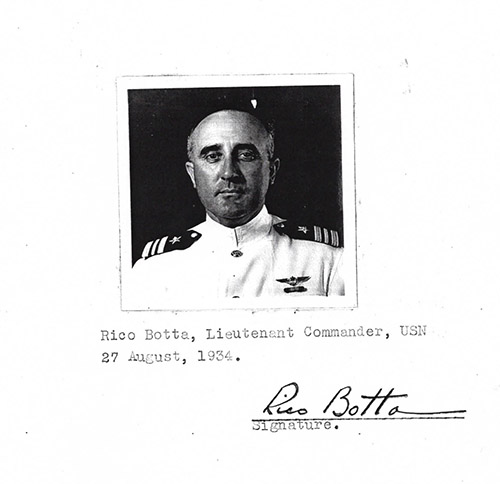 The following graphic shows a side by side comparison of the 1934 document with the two exit passes.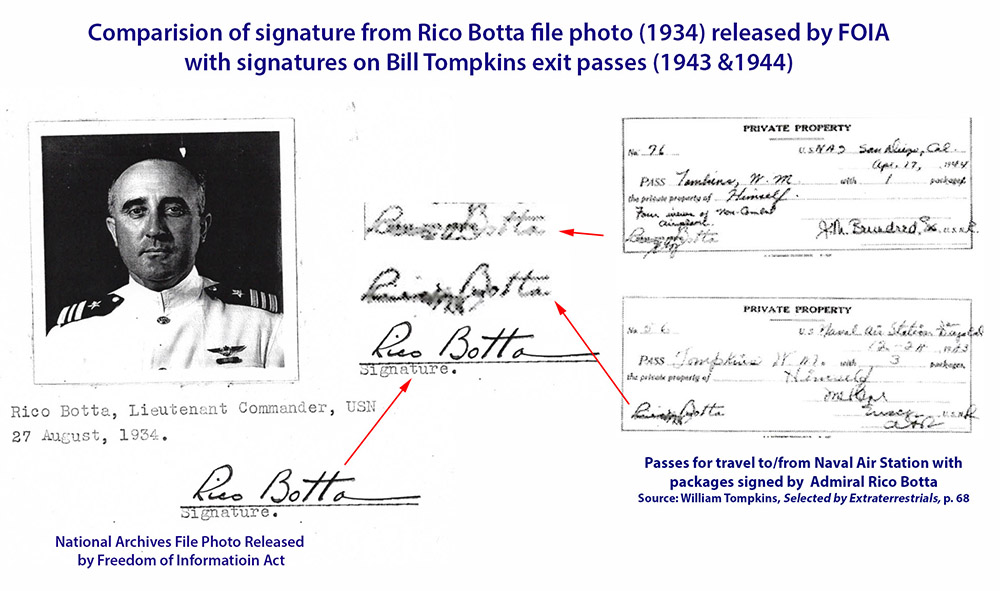 Dr. Robert Wood, an expert who specializes in document authentication, states in a September 25 email that the signatures "look identical."
On September 26, I spoke by phone with Dan Willis, who worked at the Naval Communication Station in San Francisco for a tour of duty between 1968 and 1971, and later worked for 13 years at the Naval Electronic Communication Engineering Center in San Diego. He also had often visited the San Diego Naval Air Station where his father worked for 20 years.
Willis said the two passes possessed by Tompkins are described as "chits" by the Navy. Willis explained that the signature at the bottom right of the two passes was the original authorizing officer for the pass. The signature on the left was the final authorizing officer.
Willis confirmed it was very likely the signature stamp of Admiral Rico Botta. This meant that the packages being carried by Tompkins, were ultimately approved for off-site transport by the Admiral himself, who was at the apex at the chain of command at the Assembly and Repair facility at the Naval Air Station which at the end of the war had over 10,000 personnel.
Significantly, the hand written words on the April 17, 1944, pass, "Four [For] Issue of Non-Combat Airplane" very likely referred to a private airplane Tompkins could use for delivering his package(s).
CONTINUE READING @ exopolitics.org
_________________________
Stillness in the Storm Editor's note: Did you find a spelling error or grammar mistake? Do you think this article needs a correction or update? Or do you just have some feedback? Send us an email at sitsshow@gmail.com.
Thank you for reading.
_________

Source:
http://exopolitics.org/documents-support-claims-of-covert-navy-operation-in-nazi-germany-tied-to-secret-space-programs/
________________________________________________________________
Sign-up for RSS Updates:
Subscribe in a reader
Question

-- What is the goal of this website? Why do we share different sources of information that sometimes conflicts or might even be considered disinformation?
Answer

-- The primary goal of Stillness in the Storm is to help all people become better truth-seekers in a real-time boots-on-the-ground fashion. This is for the purpose of learning to think critically, discovering the truth from within—not just believing things blindly because it came from an "authority" or credible source.
Instead of telling you what the truth is, we share information from many sources so that you can discern it for yourself. We focus on teaching you the tools to become your own authority on the truth, gaining self-mastery, sovereignty, and freedom in the process. We want each of you to become your own leaders and masters of personal discernment, and as such, all information should be vetted, analyzed and discerned at a personal level. We also encourage you to discuss your thoughts in the comments section of this site to engage in a group discernment process.
"It is the mark of an educated mind to be able to entertain a thought without accepting it. " – Aristotle
The opinions expressed in this article do not necessarily reflect the views Stillness in the Storm, the authors who contribute to it, or those who follow it.
View and Share our Images.
Curious about Stillness in the Storm?
See our About this blog - Contact Us page.
If it was not for the gallant support of readers, we could not devote so much energy into
continuing this blog. We greatly appreciate any support you provide!
We hope you benefit from this not-for-profit site
It takes hours of work every day to maintain, write, edit, research, illustrate and publish this blog.
We have been greatly
empowered
by our search for the truth, and the work of other researchers. We hope our efforts
to give
back, with this website, helps others in gaining
knowledge, liberation and empowerment.
"There are only two mistakes one can make along the road to truth;
not going all the way, and not starting." - Buddha
If you find our work of value, consider making a Contribution.
This website is supported by readers like you.
[Click on Image below to Contribute]