Related Cosmic Disclosure Season 4 - Episode 8: Inner Earth Update - Summary and Analysis | Corey Goode and David Wilcock
Related Lower Level SSP Group Broke Away from SSP Alliance Council, Intends on Pushing Partial Disclosure and Inner-Earth Anshar to Begin Contact with Surface
Related Predictions from the 90's | Dismantling the Channelers: Parts 1 and 2 - It's Time to Start Using our Discernment
Source - Exopolitics
by Dr. Michael Salla
Several ancient civilizations hidden in the subterranean regions of Earth have taken the first steps towards revealing themselves to surface humanity, according to secret space program whistleblower, Corey Goode. In the April 26 episode of Cosmic Disclosure, Goode provided more detailed information about an encounter with Inner Earth civilizations, which he initially described in a
January 14 update
on his website.
Goode began by citing his early January 2016 visit to a futuristic underground city belonging to an Inner Earth civilization, and for the first time he identified them as the "Anshar," who have existed a staggering 18 million years. Goode said he could feel the excitement among the city's inhabitants over the news that their leaders had decided to change an established policy of strict separation, and make preparations to openly reveal themselves to surface humanity.
The changed policy,
Goode stated
, emerged out of a December 2015 meeting held at a secret base in the Kuiper Asteroid Belt, where representatives of an alliance of seven Inner Earth civilizations met with a representative of the Sphere Being Alliance.
On previous occasions,
Goode has described
the Sphere Being Alliance as sixth to ninth density beings – Type III civilizations according to the Kardashev scale – which have transformed relations between different secret space programs and extraterrestrial civilizations operating in our and adjacent solar systems.
In addition to creating a "frequency fence" or quarantine around the Solar System, the Sphere Being Alliance has helped a more ethically principled "Secret Space Program Alliance" achieve technological parity with less ethical space programs and extraterrestrial groups.
All the
Inner Earth civilizations revere
the Sphere Being Alliance as a very ancient race, described as "the Builders," who were responsible for creating the first civilizations on Earth and elsewhere in our Solar System. Goode has also previously described Ancient Builder technologies as being dispersed all over the Earth and the solar system. These mysterious technologies are highly sought after by different extraterrestrial groups.
For many millennia, if not millions of years, the Sphere Being Alliance has apparently
not made contact
with the Inner Earth civilizations, but has chosen to do so now. Their only condition appears to be that they have appointed Goode to be their intermediary with the Inner Earth civilizations, as well as with all other groups.
Therefore, Goode was present at the Kuiper Belt meeting to witness the Sphere Being Alliance representative, a 10 foot tall triangle headed being,
telepathically chastise
the Inner Earth civilizations who in the former's opinion had "not been proper stewards" of the planet. Goode provided a graphic of the encounter which shows the meeting as it occurred at the secret Kuiper Belt base.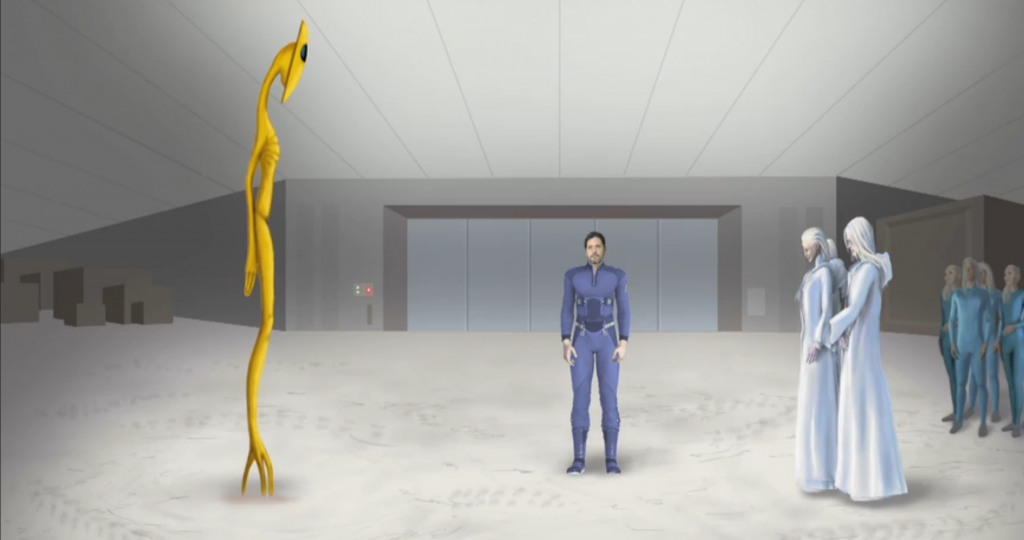 Screenshot from
April 26 Episode
of Cosmic Disclosure, Gaia TV
The Inner Earth beings were confused and anxious over what they had been told, according to Goode. He speculated that the Inner Earth representatives had been informed that their long time policy of deceiving surface humanity about their existence, and maintaining a strict policy of separation had not been appropriate to their role as planetary custodians.
Apparently, this led to great concern over the merits of revealing themselves to surface humanity, who are considered dangerous and unpredictable. This consequently led to a split among the seven civilizations, who had briefly formed an Inner Earth Alliance as Goode described in his
September 23, 2015 report
.
Three of the civilizations subsequently decided to break away from the Alliance and maintain their separation policy. They would do so by stepping up their counter-intelligence (deception) operations with surface humans in order to remain hidden.
The other four civilizations in turn decided to follow the advice of the Sphere Being Alliance and take active steps to start revealing themselves to humanity.
CONTINUE READING @ exopolitics.org
_________

Source:
http://exopolitics.org/inner-earth-beings-take-first-step-to-openly-reveal-themselves-to-humanity/
________________________________________________________________
Sign-up for RSS Updates:
Subscribe in a reader
View and Share our Images.
Curious about Stillness in the Storm?
See our About this blog - Contact Us page.
If it was not for the gallant support of readers, we could not devote so much energy into
continuing this blog. We greatly appreciate any support you provide!
We hope you benefit from this not-for-profit site
It takes hours of work every day to maintain, write, edit, research, illustrate and publish this blog.
We have been greatly
empowered
by our search for the truth, and the work of other researchers. We hope our efforts
to give
back, with this website, helps others in gaining
knowledge, liberation and empowerment.
"There are only two mistakes one can make along the road to truth;
not going all the way, and not starting." - Buddha
If you find our work of value, consider making a Contribution.
This website is supported by readers like you.
[Click on Image below to Contribute]