Related The Panama Papers Largest Leak in History | Propaganda, Preparation for Mass Arrests or Evidence of Silent Cold War?
Also... from BBC News:
David Cameron's mother gave PM £200,000 gift
David Cameron's mother gave him a £200,000 gift after his father's death which could potentially avoid inheritance tax, his accounts show.
In a first for a UK prime minister, Mr Cameron has released
a summary of his tax returns
from 2009-15 as he tries to defuse a row over his finances.
The two £100,000 payments were made a year after the PM inherited £300,000 from his father in 2010, papers show.
Ministers said he'd done nothing wrong but Labour said questions remained.
In the past six years, Mr Cameron earned a total of almost £1.1m and paid about £400,000 in income tax, according to the three-page summary.
Last year, he paid almost £76,000 in tax on an income of more than £200,000. Those earnings included almost £47,000 from a share of rent paid on his family home in west London.
Downing Street is providing no details about the £72,000 the PM received for selling "other shares" beyond his investment in his Blairmore Holdings fund or the £40,000 he received in cash from his stockbroking account.
The payments by Mary Cameron to her son in May and July 2011 were given tax free, and will only become liable to inheritance tax of up to 40% if she dies within seven years of handing over the money.
Downing Street said the payments were an attempt to "balance" the sums received by all the Cameron children, as Mr Cameron's older brother had inherited the family home.
David Cameron admits he profited from father's Panama offshore trust
David Cameron
has finally admitted he benefited from a Panama-based offshore trust set up by his late father.
After three days of stalling and four partial statements issued by Downing Street he confessed that he owned shares in the
tax haven fund
, which he sold for £31,500 just before becoming prime minister in 2010.
In a specially arranged interview with ITV News' Robert Peston he confirmed a direct link to his father's UK-tax avoiding fund, details of which were exposed in the
Panama Papers
revelations in the Guardian this week.
Admitting it had been "a difficult few days", the prime minister said he held the shares together with his wife, Samantha, from 1997 and during his time as leader of the opposition. They were sold in January 2010 for a profit of £19,000.
He paid income tax on the dividends but there was no capital gains tax payable and he said he sold up before entering Downing Street "because I didn't want anyone to say you have other agendas or vested interests".
But the interview appeared unlikely to end scrutiny of Cameron's tax affairs.
The Labour MP John Mann, a member of the Treasury select committee, said the prime minister should resign, claiming that Cameron had "covered up and misled".
Cameron also admitted he did not know whether the £300,000 he inherited from his father had benefited from tax haven status due to part of his estate being based in a unit trust in Jersey.
"I obviously can't point to the source of every bit of money and dad's not around for me to ask the questions now," Cameron said.
It was the fifth explanation in four days from Cameron and his aides about the benefits he and his family had enjoyed from the offshore fund.
Downing Street initially insisted it was a private matter, but Cameron then said he had "no shares, no offshore trusts, no offshore funds". His spokesman later clarified: "The prime minister, his wife and their children do not benefit from any offshore funds."
Downing Street then said there were no offshore funds or trusts the family would benefit from in future, leaving questions about the past.
In his first interview on the topic after days of stonewalling, Cameron was
questioned
on whether there was a conflict of interest between his father setting up the Panama-based Blairmore Investment Trust, which did not have to pay UK tax on its profits, and his professed policy to crack down on aggressive tax avoidance.
"Rules have changed, culture has changed," he said. "And I welcome that. I want to be as clear as I can about the past, about the present, about the future, because frankly, I don't have anything to hide."
Earlier Cameron had
refused to take questions
from the press while campaigning in Exeter for Britain to stay in the EU. A student managed to address him, saying: "I am very interested in what the collective EU states could do to combat tax avoidance – something you have personal experience of."
Speaking about his personal wealth, Cameron told Peston: "In all of this I've never hidden the fact that I'm a very lucky person who had wealthy parents, who gave me a great upbringing, who paid for me to go to an amazing school. I have never tried to pretend to be anything I am not. But I was keen in 2010 to sell everything – shares, all the rest of it – so I can be very transparent. I don't own any part of any company or any investment trust or anything else like that."
He also said it was a misconception that Blairmore had been set up to avoid tax. "It wasn't," he said. "It was set up after exchange controls went so that people who wanted to invest in dollar denominated shares and companies could do so."
Richard Burgon, the shadow Treasury minister, said Cameron's admission showed a "crisis of morals" at the heart of the Conservative government.
He said: "After four days of refusing to answer this question David Cameron has now finally been forced to admit he directly benefited from Blairmore, a company which paid no tax in 30 years. He must now further clarify whether or not he or his family were benefiting directly or indirectly in 2013 when he was lobbying to prevent EU measures to better regulate trusts as a way to clamp down on tax avoidance.
"David Cameron needs to properly put the record straight in full on this matter and issue a statement to parliament on Monday. We can't let this crisis of morals at the heart of the Conservative government further undermine public trust in the office of prime minister or the principle that those who govern us should pay their tax like the rest of us."
The Panama Papers were leaked to the German daily Süddeutsche Zeitung, which shared them with the Washington-based International Consortium of Investigative Journalists, the Guardian, BBC and other media organisations. Four days into the torrent of revelations, regulators stepped up their response.
In Geneva, the Swiss chief prosecutor, Olivier Jornot, said he had launched an undisclosed number of investigations and said his office was paying very close attention to new information as it emerged.
In Brussels, the EU tax commissioner, Pierre Moscovici, threatened "to hit [tax havens] with appropriate sanctions if they refuse to change".
He added: "The amounts of money, the jurisdictions and the names associated with this affair are frankly shocking. If these leaks reveal that any EU laws have been broken the commission will not hesitate to act."
Responding for the first time on Thursday, he claimed the reports were "one more attempt to destabilise the internal situation [and] make us more accommodating".
He said in St Petersburg: "Your humble servant was not there [named in the files], but they don't talk about that. So what did they do? They make an information product – they found acquaintances and friends."
China, meanwhile, stepped up its efforts to stop its population reading revelations that showed that relatives of three of the seven members of the Communist party's elite ruling council, including relatives of the president, Xi Jinping, had companies that were clients of Mossack Fonseca.
The Guardian's coverage of the Panama papers was blocked to internet users not on a special secure network. The Communist party reportedly told news organisations to "self-inspect and delete all content related to the 'Panama Papers' leak".
It was announced that the Argentinian president, Mauricio Macri, was facing an investigation into his financial dealings via two offshore firms that appeared in the files. The federal prosecutor, Federico Delgado, opened an investigation to find out if Macri, who denies wrongdoing, failed to declare assets as required by public officials.
____________
David Cameron: blame me for mishandling Panama Papers news
David Cameron
has said he must take the blame for the way Downing Street handled revelations about his interest in his late father's offshore investment fund, and suggested he will imminently publish details of his personal tax affairs.
Addressing the Conservative party spring forum, the prime minister admitted it had "not been a great week", to laughter from the gathered supporters.
Cameron said he would publish details of his tax return "later on" as he attempted to assuage calls for further transparency about his financial dealings.
"I know I should have handled this better," he said. "I could have handled this better. I know there are lessons to learn and I will learn them. And don't blame No 10 Downing Street, or nameless advisers, blame me. And I will learn the lessons."
As Cameron addressed his party's supporters, thousands of protesters gathered outside the gates of Downing Street calling for him to resign.
The crowd then marched to the forum at the Grand Connaught Rooms, in Covent Garden, wielding placards and chanting for him to step down.
Cameron told the forum he was "very angry about what people were saying about my dad".
"I love my dad. I miss him every day," he said. "He was a wonderful father and I'm very proud of everything he did.


"But I mustn't let that cloud the picture. And the facts are these. The facts are I bought shares in a unit trust, shares that are like any other sorts of shares, and paid tax on them in exactly the same way. I sold those shares, in fact I sold all the shares that I owned on becoming prime minister.
"And later on I'll be publishing the information that goes into my tax return, not just for this year but for years gone past because I want to be completely transparent and open about these things. I'll be the first prime minister, the first leader of a major political party, to do that, but I think it's the right thing to do."
After a torrid week, which ended with
calls from MPs for his resignation
, Cameron aimed to move the focus to his party's record as he launched the Conservative campaign for next month's local elections.
In his speech at the forum, Cameron said: "One year into our second term and no one can deny: we are doing big things."
The prime minister was accused of misleading the public after he issued several statements before finally admitting he had benefited from his
late father's offshore investment fund Blairmore
. The details of the fund were contained in
documents leaked from the Panamanian law firm Mossack Fonseca
.
The revelation came amid
infighting over the forthcoming EU referendum
and just weeks after the work and pensions secretary,
Iain Duncan Smith, resigned
over proposed welfare cuts. The government is also facing the potential collapse of the British steel industry after
Tata Steel announced it planned to pull out of all its UK operations
, putting 15,000 jobs at risk.
YouGov research released on Friday revealed Cameron's approval rating was at its lowest level since July 2013 and was below that of Jeremy Corbyn for the first time. Of those surveyed, 34% said Cameron was doing well as prime minister, while 58% said he was doing badly, giving him an overall rating of -24. By comparison, the Labour leader's rating was -22, after 30% said he was doing well and 52% that he was doing badly.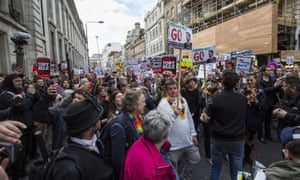 Facebook
Twitter
Pinterest
Demonstrators in London demand: 'David Cameron: close tax loopholes or resign!' Photograph: Rex/Shutterstock
Corbyn said on Saturday he would publish his own tax return "very, very soon" and insisted there were "no surprises there" as he demanded action to crack down on tax havens.
The Labour leader said Cameron had painted a confusing picture over his tax affairs and suggested the prime minister should reveal details about the Blairmore Holdings trust as well as his own finances.
"He has made a series of statements over the week which are somewhat confusing," Corbyn told Sky News. "We have finally reached a position where he is going to publish his tax return, apparently, and also tell us how much money was made from this offshore trust, what tax he paid and what tax was paid by the trust."
Corbyn has called on Cameron to
address MPs on his private financial dealings when they return to parliament
next week.
"It is now clear that the prime minister has misled the public about his personal involvement in offshore tax avoidance schemes," he said on Friday. "It took five weasel-worded statements in five days for the prime minister to admit that he has personally profited from an undeclared Caribbean tax haven investment deal.
"After years of calling for tax transparency and attacking complex offshore tax arrangements as 'morally wrong', the prime minister has been shown to have personally benefited from exactly such a secretive offshore investment."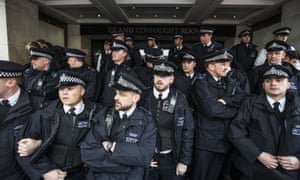 Facebook
Twitter
Pinterest
Police form a cordon around the Grand Connaught Rooms as protesters gather. Photograph: Rex/Shutterstock
On the campaign trail in Edinburgh, ahead of the Scottish elections, Corbyn reportedly made further remarks about Cameron's finances.
"I think we also need to look at parliamentary rules on this so it's absolutely clear there has to be a declaration of income from overseas sources as well. At the moment, it is slightly blurred," reported Buzzfeed.
He called on all politicians to publish their tax returns, saying: "You should put into the public domain what your levels of income are, where it's come from and the tax that's paid on them. That's the correct way of doing it."
As part of attempts to reconcile the Conservative party, Chris Grayling, the leader of the House of Commons, who wants Britain to leave the EU, spoke out in support of the prime minister, who is leading the campaign for Britain to remain.
"When it's a matter that relates to your late father, first of all you don't know all the information yourself about what your father's affairs were and secondly you're very protective of your father," Grayling told BBC Radio 4's Today programme.
"When the story that's coming out of Panama is all about how some pretty unpleasant international dictators are hiding money in
Panama
, then it's a very difficult question for a family when frankly nobody's done anything wrong."
Downing Street's series of statements denying that the prime minister, his wife or children held any shares or would benefit in the future from offshore funds or trusts were capped off when Cameron made a fifth statement –
in an interview with ITV News
– in which he admitted he had sold his shares in 2010 for £31,000, making a profit of £19,000.
It remains unclear whether Cameron's direct relatives, including his mother, Mary, held money in offshore trusts, and whether his £300,000 inheritance included money accrued from tax haven investments.
There has been
no further clarification from No 10
about what investments the prime minister and his family may have held in Jersey, following further reports.
Meanwhile, the governments of two tax havens have repeatedly ignored British ministers' requests to discuss cracking down on tax avoidance of the kind detailed in the
Panama Papers
, according to the Independent.
Official letters obtained under freedom of information laws show ministers were "disappointed" at being stood up after numerous attempts to meet the leaders of the British Virgin Islands and Cayman Islands.
_________

Sources:
http://www.theguardian.com/news/2016/apr/07/david-cameron-admits-he-profited-fathers-offshore-fund-panama-papers
http://www.theguardian.com/politics/2016/apr/09/david-cameron-to-launch-local-election-campaign-as-panama-papers-row-rumbles-on
Image Source -
http://3.bp.blogspot.com/-GnN2Ui4PjtI/VQqSNsLgdyI/AAAAAAAFAuI/JQXCyDeNu8o/s1600/david-cameron-global-economy.jpg
________________________________________________________________
Sign-up for RSS Updates:
Subscribe in a reader
View and Share our Images.
Curious about Stillness in the Storm?
See our About this blog - Contact Us page.
If it was not for the gallant support of readers, we could not devote so much energy into
continuing this blog. We greatly appreciate any support you provide!
We hope you benefit from this not-for-profit site
It takes hours of work every day to maintain, write, edit, research, illustrate and publish this blog.
We have been greatly
empowered
by our search for the truth, and the work of other researchers. We hope our efforts
to give
back, with this website, helps others in gaining
knowledge, liberation and empowerment.
"There are only two mistakes one can make along the road to truth;
not going all the way, and not starting." - Buddha
If you find our work of value, consider making a Contribution.
This website is supported by readers like you.
[Click on Image below to Contribute]