Short update from Ken today.
Related All Trading Halted On NYSE, White House Monitoring Outage, Software "Glitch" Blamed
Related It Can Happen Here: The Confiscation Scheme Planned for US and UK Depositors

Related Greece Could "Print" Its Own Money | BRICS Meeting Between Greece and Russia? - Russian Oil Makes Athens Europe's Energy Hub!
Related Greece Votes NO – Let The Chaos Begin…
For other Globalist Agenda Watch updates
click here
. For More BRICS updates
click here
.
Source - Redefining God
The Eurozone really laid it on thick over the weekend. They made a big show of having the Germans humiliate and subjugate the Greeks. This is great propaganda fodder for showing the world the evils of the Western Establishment and the need to defeat the "Zionists / Neocons / Nazis." And they did everything they could to make the deal as unpalatable as possible for the Greek Parliament and the Greek people.
Now we wait to see how the disorder starts. Will the Greek government seize up? Will the people gather around the Parliament building and command a "no" to the deal? And what happens to the proud Germans when the globalists take down their twin towers with derivative charges in the next few months?…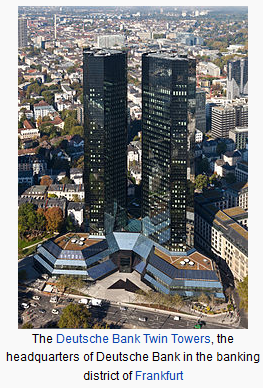 …(source:
Wikipedia
)
On another note, should disorder occur and Defense Minister Kammenos step up, he now has plausible deniability. He can say that he held his nose and voted for the deal on Saturday in order to prevent civil disorder. That way, it doesn't look like he was waiting like a vulture to capitalize on the chaos and lead Greece to the BRICS.
For the previous updates from this series, click
here
.
Much love…
_________

Source:
http://redefininggod.com/2015/07/globalist-agenda-watch-2015-update-60-the-evil-germans-and-the-oppressed-greeks/
________________________________________________________________
Sign-up for RSS Updates:
Subscribe in a reader
View and Share our Images.
Curious about Stillness in the Storm?
See our About this blog - Contact Us page.
If it was not for the galant support of readers, we could not devote so much energy into
continuing this blog. We greatly appreciate any support you provide!
We hope you benefit from this not-for-profit site
It takes hours of work every day to maintain, write, edit, research, illustrate and publish this blog.
We have been greatly
empowered
by our search for the truth, and the work of other researchers. We hope our efforts
to give
back, with this website, helps others in gaining
knowledge, liberation and empowerment.
"There are only two mistakes one can make along the road to truth;
not going all the way, and not starting." - Buddha
If you find our work of value, consider making a Contribution.
This website is supported by readers like you.
[Click on Image below to Contribute]